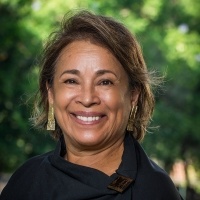 Alma Martinez
Associate Professor, Theatre, Acting Emphasis
Main: (909) 448-4551
Dailey Theatre / La Verne
Dr. Martinez teaches dramatic literature and criticism, acting and directs department productions.
Her acting career spans almost 40 years of work in film, television and theatre. She has appeared on Broadway, Off Broadway, in regional theaters across the country and on Mexican and European stages. She has studied with Lee Strasberg, Jerzi Grotowski, Ariane Mnouchkine, Augusto Boal, Anna Deveare Smith, Patsy Rodenberg and at the Royal Academy of Dramatic Art (London), Centro Universitario de Teatro (C.U.T.) at the Universidad Autónoma de México in Mexico City and at the Universidad de Guadalajara, Artes Plásticas, Jalisco, Mexico. An artistic associate of Luis Valdez and El Teatro Campesino, she has been Valdez's lead actress in most of his significant work including Zoot Suit (stage & film) and Corridos: Tales of Passion and Revolution (Peabody Award). Her films include Cake, Batman v Superman: Dawn of Justice, Born in East LA, Barbarosa and Under Fire. On television, credits include Queen Sugar, Gray's Anatomy, American Crime: People v OJ Simpson, Good Behavior and a recurring role in the premier season of F/X's The Bridge (Peabody Award). She is a member of SAG-AFTRA, AEA, ANDA and SDC.
Her research and publications focus on Chicanx and Latin American popular-political theatre. Recent articles include "Pancho Villa's Head: The Mexican Revolution in the Chicano Theatrical Imagination", Open Borders to a Revolution: Culture, Politics, and Migration, published by Smithsonian Scholarly Press and "Both Feet on My Ground: Forging a Path Towards a New American Theatre" in (Re) Positioning the Latina/o Americas: Theatrical Histories and Cartographies of Power published by Southern Illinois University Press, due in 2016.
Dr. Martinez is a member of the Academies of Motion Picture Arts and Sciences and Television Arts and Sciences and sits on the board of LA Plaza de Cultura y Artes in Los Angeles.
Dr. Martinez's creative work can be found at Academia.
Educational Background
B.A. Theatre, Whittier College
M.F.A. Acting, University of Southern California
Ph.D. Directing and Dramatic Criticism, Stanford University
Cesar Chavez Dissertation Fellowship, Dartmouth College
Fulbright Scholar, Peru
---
To explore the scholarship and creative works of University of La Verne faculty, please visit the Research Works profiles hosted by Wilson Library.