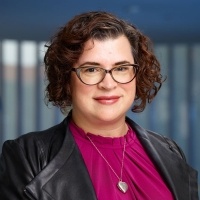 Staci Baird
Assistant Professor, Public Relations
Main: (909) 448-4771
Fax: (909) 448-1612
Arts and Communications Building / La Verne 133
Staci Baird joined the University of La Verne in 2016.
Before relocating from the Bay Area to Southern California, Staci was Engagement Editor for Global Press Journal, an award-winning digital publication that produces high-impact news stories from some of the least covered regions of the world.
Staci was journalist-in-residence at Notre Dame de Namur University and previously taught digital media courses at San Francisco State University and the University of Tennessee. Staci earned her master's degree in public relations from Kent State University and studied journalism at the University of Kansas. Her research and teaching interests include organizational public relations, social media metrics and the tools and methods for measuring quality relationships.
She was associate director of digital and social media at the Stanford School of Engineering, senior internet marketing manager for Lucasfilm, innovations project manager for E.W. Scripps Newspaper Interactive, multimedia project manager for MSN Money and a community manager for CBS Interactive.
Staci is a long-timer member of the Online News Association, a member of Journalism and Women's Symposium and a member of the Public Relations Society of America.
Staci was honored with the Distinguished Service to Journalism Education Award by the Journalism Association of Community Colleges in 2013. Her work in digital media has been recognized by the Society of Professional Journalists and the Kansas Professional Communicators.
Professor Baird's scholarly work can be found at ResearchGate.
Educational Background
Masters of Arts in Public Relations, Kent State University
Awards / Honors
Semifinalist, 2011 Adobe Design Achievement Awards, Innovation in Interactive Media in Education
San Francisco State University Xpress Magazine, Finalist, Adobe Max Award 2008
Loeb Award for Online Financial Journalism 2008 (MSN Money team)
Best independent news website, Society of Professional Journalists Region 12 2008
Best in Business, Society of American Business Editors 2007 (MSN Money team)
First place website design, Kansas Professional Communicators 2005
First place undergraduate student station website, Kansas Professional Communicators 2005
Senior Fellow California Endowment Health Journalism Fellowship
Workshops for the Journalism & Women Symposium, the Knight Fellowship at Stanford University and the Knight Digital Media Center and the Berkeley Advanced Media Institute
Additional Information
Courses Taught
JOUR 100: News Reporting
JOUR 330: Theories and Practices of Public Relations
JOUR 408: Writing for Public Relations
JOUR 430: Public Relations Methods
JOUR 408: Making Social Media Matter
JOUR 499: Senior Seminar