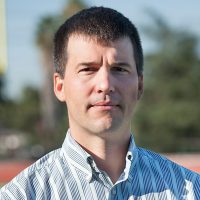 Brian Clocksin

Interim Vice Provost for Strategic Health Initiatives and Professor of Kinesiology
Main: (909) 448-4184
Hoover Building
Dr. Brian D. Clocksin joined the Dean's Office following five years as the Chair of the Kinesiology Department. Since his arrival to La Verne, Dr. Clocksin has worked with his colleagues in Kinesiology to rename the department (previously Movement & Sports Science), secured funding to remodel and purchase equipment for the Kinesiology Lab, and launch an Engaged Department initiative.
Prior to the University of La Verne, Dr. Clocksin was a tenured, Associate Professor of Physical Education and Sport Sciences at Hofstra University (Hempstead, NY). While at Hofstra, Dr. Clocksin served as the Graduate Director for the M.S. in Physical Education and the Director of Adventure Education. During his seven years at Hofstra, Dr. Clocksin led the development of two new master degree programs and a 5-year dual-degree (BS/MS) program. Brian played a leadership role in accreditation reviews for NCATE and TEAC and was a program auditor for NCATE SPA affiliate NASPE. He also served as the Chair of the Council for Adventure Outdoor Education and Recreation. Dr. Clocksin spent four years on the Board of Directors for the Pomona Valley YMCA. He currently serves as a reviewer for the Journal of School Health, the International Journal of Aquatics Research and Education, and the Physical Educator.
Professor Clocksin received his B.S. in Exercise Sciences from Willamette University (Salem, OR). He received his M.A. in Physical Education from the University of Northern Colorado and his Ph.D. in Exercise and Sports Science from the University of Utah. His research has focused on the role physical activity and sport play in the development of personal and social responsibility, community engaged learning, and adventure education. Dr. Clocksin has 14 published articles in the leading peer-reviewed journals in his field and routinely presents at national conference in his area of specialty and on topics of student learning and engagement. In 2013 he collaborated with a colleague to publish a textbook Using Sport & Physical Activity to Teach Personal and Social Responsibility. Brian has successfully received nine grants to support his research and enhance the educational experience of students. He was a 2017 recipient of the Spirit of La Verne Award as an Engaged Scholar.
Dr. Clocksin has been actively engaged in faculty governance since arriving at La Verne. He spent two years as the vice president for the faculty senate. He is currently part of the Institutional Assessment Taskforce and collaborated with colleagues to develop a measurement plan for the Baccalaureate Learning Outcomes. Brian participated in the 125-year planning committee, represented the College as part of the University Personnel Council, and was on the VP of University Advancement search committee. Brian lives in Pomona with his wife Kimberly and their two children, Lilka and Michael.
Publications
Watson, D.L. & Clocksin, B.D.  (2013). Using Physical Activity and Sport to Teach Personal and Social Responsibility. Champaign, IL: Human Kinetics.
Sell, K., Clocksin, B.D., Spierer, D., & Ghigiarelli, J. (2011). Comparison of energy expenditure during traditional and non-traditional physical activities. Journal of Exercise Physiology-Online, 14(3), 101-112.
Watson, D.L. & Clocksin, B.D. (2011). Processing is everything! Strategies, 24(5),  19-22.
Clocksin, B.D., Watson, D.L., Williams, D. P., & Ransdell, L. (2009). An integrated health and physical education program to reduce media use and increase physical activity in youth. The Physical Educator, 66(3), 149-168.
Lyons, B., Clocksin, B.D., Wax, B., & Avard, F. (2007). Using the Squat to Teach Biomechanical Principles. LAHPERD Journal, 71(1), 16-19.
Clocksin, B.D. (2006). Sequencing High Adventure Activities in Elementary Physical Education. Teaching Elementary Physical Education, 17(4), 16-21
Clocksin, B.D. (2006). Sequencing Low Adventure Activities in Elementary Physical Education. Teaching Elementary Physical Education, 17(3), 14-20