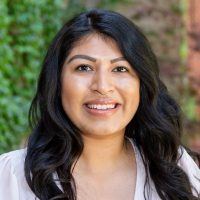 Cynthia Ramirez
Office: (909) 448-4024
Campus Center
Hometown: Santa Barbara, CA
College Major: B.S. Business Administration
Territory: San Fernando Valley, Hollywood and Wilshire, Long Beach, Central Valley, and Imperial Valley
Favorite spot on campus?
I love the little patio area on the third floor of the Sara and Michael Abraham Campus Center. I especially like going there in the afternoon when the sun's setting over the football field, it's so peaceful and beautiful.
Favorite La Verne restaurant?
I love Warehouse Pizza, especially the ranch.
What student has impacted you the most at La Verne?
There isn't one specific student but I can say I am lucky to work with a diverse group of students with huge goals and aspirations. Seeing these students whenever I'm on campus is a constant reminder of why I enjoy what I do.
Favorite quote?
"Be happy not because everything is good, but because you can see the good side of everything."