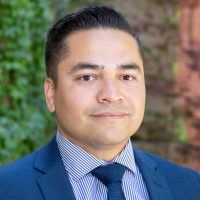 Erasmo Fuentes
Director, Admission – TUG
Main: (909) 448-4349
Campus Center / La Verne 214
Hometown: Los Angeles, CA
College Major: B.A. History; M.A. Higher Education
Territory: East LA, South LA, South Central LA, Hawaii, Guam, and all other states all other states except Arizona, Nevada, Oregon, and Washington
What's the funniest (or most interesting) incident to happen to you during an admission trip?
I conducted an information session at a Chevron Gas Station's Mini Mart in Montebello, CA. I was proudly wearing my office of admission polo and a few customers started asking me questions about La Verne. I casually answered their questions; next thing I knew, I had a small crowd of about 10 customers eager to learn more about the university. I ran back to my car and grabbed brochures and handed them out and wrapped up my information session.
Favorite spot on campus?
The Arts and Communications Building
Favorite La Verne restaurant?
Spooner's, because they serve delicious and authentic Korean food!
What student has impacted you the most at La Verne?
Our students are all great and unique. I am lucky to say that I have learned a great deal from them.
Favorite quote?
"Are you ready? Okay. Let's roll." – Todd Beamer.