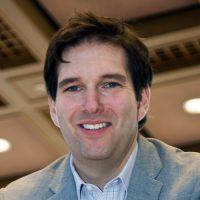 Ezra Goldschlager
Main: (909) 460-2048
Fax: (909) 460-2081
Professor Ezra Goldschlager teaches Torts, Criminal Law and Introduction to Legal Skills.  His scholarly work focuses on digital assets and improving the law's power to shape behavior. His academic interests also include the pedagogy of law and legal practice.  Professor Goldschlager was the founding faculty advisor to the La Verne Law chapter of the Student Animal Legal Defense Fund. He serves on the University of La Verne Faculty Senate as the College of Law representative. As the Director of Program Review, he leads the law school's self-assessment.
Before joining the La Verne Law faculty in 2013, Professor Goldschlager served as a law clerk to the Honorable Jerome A. Holmes of the United States Court of Appeals for the Tenth Circuit.
Educational Background
Yale Law School
Juris Doctor, 2006
Lead Editor, Yale Law & Policy Review
Student Director, Yale Child Advocacy Clinic
Williams College
Bachelor of Arts, Philosophy, Magna Cum Laude, 2002
John W. Miller Prize for the Most Outstanding Student in Philosophy
Dean's List every semester
Phi Beta Kappa
Publications
Don't Call it Assessment – Focusing on "Assessment" is Alienating and Limiting,

L. School Assessment Blog

(Nov. 8, 2018).
Net Neutrality and the US Constitution, Daily Journal, Oct. 15, 2018, with Charles S. Doskow.
No, Government Doesn't Need a Blockchain for Everything, Medium, 2017.
Why the IRS Should Classify Bitcoin as a Currency, Medium, 2017.
When Regulating Digital Currencies, Motivation Matters, Medium, 2017.
Praise  and the Law, 49 Creighton Rev. 353, 2016.
Presentations
Real-Time Formative Assessment in the Law School Classroom: Informing Students and Teachers with Smartphone-Based Polling," University of La Verne College of Law, September 2018.
"True Learning Model: A Learning-Centered Approach to Legal Education," with Sammy Elzarka, Diane Klein and Kevin Marshall,  2017 Assessment Institute, Indianapolis, Indiana, October 2017.
"Building Classroom Community and Engagement with the Team Communication Platform Slack," Southeastern Association of Law Schools Conference, Boca Raton, Florida, August 2017.
"Teaching the Value of Collaboration," Rocky Mountain Legal Writing Conference, University of Arizona James E. Rogers College of Law, March 2016.
"Personal Privacy in the Shadow of CISA," for the American Constitution Society, University of La Verne College of Law, November 2015.
"Zero-Stakes Competitions and Classroom Engagement," Western Regional Legal Writing Conference, Loyola Law School, August 2015.
"Engaging the Entire Student," University of La Verne College of Law, April 2015.
"A Complete Integration of Doctrine and Skills: Early Experiences with a New Curriculum," Rocky Mountain Legal Writing Conference, University of New Mexico School of Law, March 2015.
Additional Information
Professional Experience
University of La Verne, 2018 – Pres.
Director of Program Review and Assistant Professor of Law
University of La Verne, 2016 – 2018
Assistant Professor of Law
University of La Verne, 2013 – 2016
Visiting Assistant Professor of Law
United States Court of Appeals for the Tenth Circuit, 2011 – 2012
Law Clerk, Honorable Jerome A. Holmes
Williams College, 2009
Adjunct Instructor in Economics
Courses Taught
Criminal Law / Introduction to Legal Skills
University of La Verne College of Law, Spring 2014 – 2018
Torts / Introduction to Legal Skills
University of La Verne College of Law, Fall 2013 – 2017
Law Review Seminar
University of La Verne College of Law, Fall 2014 – 2016
Negotiation: Theory and Practice
Williams College, Winter 2009
Institutional Service
Chair, Technology and Library Committee (2018 – Pres.)
Representative, University of La Verne Senate Executive Committee (2018 – Pres.)
Senator, University of La Verne Faculty Senate (2016 – Pres.)
Member,  Academic Standards, Exams & Grading Committee (2014 – Spring 2016, Fall 2017 – Pres.)
Founding  Faculty Advisor, University of La Verne College of Law Chapter of the Phi Alpha Delta Law Fraternity (2016 – Pres.)
Founder and Faculty Advisor, University of La Verne College of Law Chapter of the Student Animal Legal Defense Fund (2013 – Pres.)
Member, Library and Technology Committee (2014 – Spring 2016, Fall 2017 – Pres.)
Member, Admissions, Scholarship & Financial Aid Committee (2016 – 2017)
Faculty Advisor, University of La Verne Law Review (2014 – 2017)
Member, Ad Hoc Committee on Mentoring Program Development (2017)
Member, Orientation Committee (2017)
Member, Committee on Admissions Policy (2016)
Admissions file reviewer (2014)
Member, Director of Student Affairs Hiring Committee (2014)