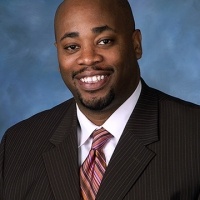 Issac Carter
Assistant Professor, Education
Educational Background
Ph.D., Florida Atlantic University
M.A., DePaul University
B.S., Elmhurst College
Publications
The First Year College Experience: Identity, Leadership & Culture, Kendall Hunt, 2018 (in progress)
Broken Promises, "Disciplining the Colonized: What's the Matter with Black Lives?" Rowman and Littlefield, 2017 (forthcoming).
The Assault on Communities of Color, "New Freedom School Movement," Rowman and Littlefield, 2015.
Women Moving Forward Volume Two: An Intersectional Lens for a Tapestry of Diverse Voices, "The Constraints of Men Adopting a Feminist Paradigm," Cambridge Scholars Publishing, 2007.
Additional Information
Special Interests
The intersections of knowledge production, intersectional identity constructs, social consciousness and community action are key areas of interest for Dr. Carter. His work explores a wide range of theory and methods from a variety of fields of inquiry and forms of political action.
Research Interests
Higher Education and Social Change
Black Students at Hispanic Serving Institutions
Leadership and Culture
Feminism and Men of Color
Student Success; Access, Matriculation, and Graduation
Cultural Competencies and Professional Practices
Student Activism and the College Campus
Indigenous Forms of Leadership and Knowledge Production
Classes Taught at La Verne
Leadership Across Culture, Building Bridges (Undergraduate)
The Black Experience in America (Undergraduate)
The Art of Leadership and Social Change (Graduate)
The Student Characteristics, Learning and Culture (Graduate)
Assessment, Evaluation, Research & Grants (Graduate)
Law, Policy, Safety and Restorative Justice (Graduate)