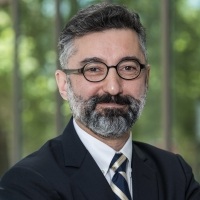 Kerop Janoyan
Provost and Vice President of Academic Affairs
Office: (909) 448-4748
Founders Hall 114
Kerop Janoyan is the provost and vice president for Academic Affairs at the University of La Verne. Prior to that, he served as the dean of the Graduate School and was a professor in the Department of Civil and Environmental Engineering at Clarkson University, where he also served as interim dean of the Lewis School of Health Sciences and director of distance learning.
Janoyan is a seasoned administrator and an accomplished educator and researcher with experience in leading complex and expansive portfolios. He has a record of building trust through responsive communications along with a consultative and inclusive process.
His research and development expertise covers a broad range of related and interdisciplinary topics with a strong focus on aspects of intelligent and sustainable infrastructure and clean and renewable energy systems. He has an extensive history of participation in academic and joint industrial projects. He has authored or co-authored more than 100 technical papers and reports and his research and development efforts have garnered over $5 million in external funding.
He received his bachelor's, master's, and PhD degrees at the University of California, Los Angeles (UCLA).