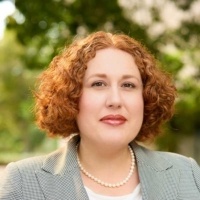 Krystal Rodriguez-Campos
Office: (909) 460-2031
Office: (909) 448-2046
College of Law and Public Service 233/136
Krystal Rodriguez-Campos is the director of the Justice and Immigration Clinic.  She is a legal specialist in Immigration and Nationality law, certified by the State Bar of California. She was admitted to the State Bar of California in December of 2010.
Prior to joining the College of Law and Public Service, she practiced immigration law and represented hundreds of individuals before the Department of Homeland Security, Immigration Courts, and the Board of Immigration Appeals in various types of immigration matters, including applications for asylum, Cancellation of Removal, VAWA, U‐visas, and DACA. She also represented noncitizens in their requests for post-conviction relief in criminal court.
While in law school, Professor Rodriguez‐Campos externed as a student legal representative in the Justice and Immigration Clinic, successfully representing a Central American man in a defensive asylum case. She also clerked for the Children Rights' Project at Public Counsel, serving in the In Pro Per Guardianship Clinic and assisting in Special Immigrant Juvenile Status cases. She was a recipient of the Joe Baca Foundation scholarship, the Segal AmeriCorps Education Award, and the Best Brief for Appellee Award in Appellate Advocacy.
She is a graduate of the University of California, Los Angeles and the University of La Verne College of Law and Public Service. She has Bachelors of Arts Degrees in English and Spanish. She has appeared on Univision as an invited commentator on immigration topics and is the proud daughter of immigrant parents.
---
To explore the scholarship and creative works of University of La Verne faculty, please visit the Research Works profiles hosted by Wilson Library.