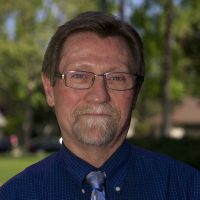 Rick Rogers
Associate Professor, Psychology
Associate Professor of Psychology; received his B.A. and M.C. from Arizona State University, and Ph.D. in Counseling and Guidance from the University of Arizona in 1986. He has been teaching part-time at the University of La Verne since 1988, and was the director of the University of La Verne Counseling Center from 1999-2013.  His areas of specialization and research include male sexual dysfunction, stress and coping, cognitive behavioral therapy, group psychotherapy, supervision and training. Dr. Rogers is a licensed psychologist and designated as core doctoral faculty.
Interests & Background
Teaching
I really enjoy teaching courses that have an applied clinical focus! My hope is that in my courses the students will learn in depth about the theoretical constructs, that they will acquire knowledge and skill about how to conceptualize their clients and that they will gain confidence and skill in treatment planning and in the application of interventions to their actual clients. I strive to integrate multicultural and diversity factors into all my classes.
As a core faculty member in the Psy.D. program, I teach P646:cognitive behavioral theory & practice, P647: group psychotherapy and P670-671: supervision theory and practice.  In the past I have also taught the year 3 practicum class (P655 & 656). I began teaching part-time in the M.S. program in 1988 and currently I teach P512: clinical psychopathology and P522: group counseling.
Research
My dissertation was on the topic of the male erectile dysfunction. This was a follow-up study on the psychological and sexual adjustment after the surgical treatment of organically caused impotence for these men and their sexual partners. It was both a privilege and a fascinating experience to explore the sexual lives of these men and their partners!
Within the past when I was the Director of the ULV Counseling Center along with my colleagues Drs. Gamst & Der-Karabetian we collected data at the Counseling Center about the possible relationships between ethnic identity and acculturation, ethnic match between client and therapist, and treatment outcome.
During my sabbatical in 2012 I conducted research about student veterans enrolled in colleges and universities within California.  I surveyed Directors of university counseling centers, VPs of student affairs, administrators of Student Veterans Centers and ULV student Veterans.
I have had the opportunity to be the dissertation chair for multiple Psy.D. students. I see that I have several roles as a chair. Initially I strive to guide the student to making decisions about their topic such that it is realistic and doable as well as something that s/he is really interested in and will be motivated to pursue. Throughout the proposal and dissertation process I help students structure their time and make specific goals about what they hope to accomplish between our meetings. Encouragement is so important to help the student keep motivated and to minimize feeling overwhelmed and I strive to be encouraging throughout the entire process. And what a reward it is for all when the student successfully presents her/his completed dissertation!
Clinical Expertise
My earliest training was in Humanistic psychology, both person-centered and gestalt, and in family systems.  During my doctoral program I learned about Adlerian theory and practice.  I went through a yearlong training program and then two years of group supervision in cognitive therapy with Christine Padesky, Ph.D.  I have a private practice in Claremont where I provide individual and couples therapy to adults.  My specialties are in the treatment of anxiety, trauma, and depressive disorders along with relational problems.
Personal Background
I married my college sweetheart, Mary Beth and we have two adult daughters, Alicia & Erica, and both of them work in the counseling profession. We are blessed to have three grandchildren, Cooper, Benji and Tatum.  To manage my stress I strive to exercise daily race walking with our dog, Gracie.
Educational Background
Licensed Psychologist (PSY 10394)
Ph.D., University of Arizona
M.C., Arizona State University
Publications
Publications
Gamst, G., Rogers, R., Der-Karabetian, A., Dana, R. (2006). Addressing mental health disparities: A preliminary test of the Multicultural Assessment Intervention Process (MAIP) model. In V. Metrosa (Ed.), Racial and ethnic disparities in health and healthcare. Hauppauge, NY: Nova Science Publishers, Inc.
Beutler, L.E., Scott, F.B., Rogers, R.R., Karacan, I., Baer, P.E., & Gaines, J. (1986). Inflatable and non- inflatable penile prostheses:  Comparative follow-up evaluation.  Urology. 27, 136-143.
Beutler, L.E., Scott, F.B., Karacan, I., Baer, P.E., Rogers, R.R., & Morris, J. (1984). Women's satisfaction with penile implants: Inflatable vs. non-inflatable prostheses.  Urology 24, 552-558.
Presentations
Rogers, R. & Lock, A., (2013).  Veterans on our Campuses: Facilitating the transition from military life to college life.  Paper presented at the Annual Conference of the Association for University & College Counseling Centers Directors (AUCCCD) in San Diego, CA.
Elgart, E. & Rogers, R (2013).  An orientation to the Trauma Resiliency Model.  Paper presented at the Annual Conference of the Association for University & College Counseling Centers Directors (AUCCCD) in San Diego, CA.
Rogers, R.  & Stevens, M (2012).  Student Veterans on university campuses in California.  Paper presented at the Fall Conference of the Organization for Counseling Center Directors in Higher Education (OCCDHE) in Shell Beach, CA.
Rogers, R., Gamst, G., Der-Karabetian, A., & Dana, R. (2006). A preliminary test of the Multicultural Assessment Intervention Process (MAIP) model.  Poster presented at the 86th Annual Convention of the Western Psychological Association, Palm Springs, CA.