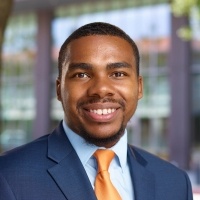 Shawn Carr
Associate Director, Admission - Underrepresented Student Recruitment
Office: (909) 448-4030
Campus Center / La Verne
Hometown: Camden, NJ
College Major: B.A. Psychology, M.A. Organizational Communications
Territory: Hollywood and Wilshire, East Los Angeles, Long Beach, South Bay, South Los Angeles, Delaware, Indiana, Maryland, New Jersey, New York, Ohio, Pennsylvania, Virginia, West Virginia
Favorite Spot on campus:
The Rinehart Community Lounge; it's a comfy lounge area in the Campus Center where you can unwind on the cozy couches to free your mind or complete work assignments.
Favorite La Verne Restaurant?
The Spot; the new dining hall always offer a variety of fresh mouthwatering food options!
Which student has impacted you the most at La Verne?
Drake Ingram. It is great to see Drake evolve into an open-minded student who now has a burning desire to be nurtured by the LA Verne community in efforts to grow both academically and socially.
Favorite quote?
"Hard work always beats talent, if talent doesn't work hard"- Jadakiss