November 21, 2016
Dear University Community,
The University of La Verne supports a diverse, respectful, and inclusive environment where students benefit from the life experiences and viewpoints of other students, faculty, staff and community members. Regardless of any changes that may be made to federal immigration policy, we will continue to provide a positive educational environment for all members of our learning community.
The University will continue to uphold existing admissions policies for all students. In this spirit, we will continue our partnerships with the California Student Aid Commission and TheDream.US to offer DREAM scholarships. And, we will continue our participation in the California-Mexico Studies Center credit-bearing program, which guarantees students a return to the U.S. after the program's study travel to Mexico, as permitted by the U.S. Citizenship and Immigration Services.
Our Immigration Clinic at the College of Law will serve as an information resource for students with questions about Deferred Action for Childhood Arrivals (DACA) and other status issues. We are also assembling a list of local College of Law alumni and other attorneys who can provide information on a pro-bono basis for any student with immigration-related questions. Our International Student Services office is available also to answer questions about international student visas.
As a demonstration of this commitment, the University of La Verne has endorsed a letter by college and university presidents to national leaders in support of the DACA program and undocumented immigrant students.
We are committed to the mission of the University of La Verne, which supports all our students as each pursues a quality education.
Sincerely,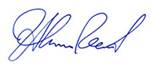 President Devorah Lieberman and Provost Jonathan Reed