State of University – Recording, Second Opportunity
Dear Faculty and Staff,
This week, we will be holding another live State of the University address on Thursday, April 9 at 12:00 p.m. to provide another opportunity for faculty and staff to participate in the chat and submit their feedback. The connection information is below. Please note, you will need to use a laverne.edu email address to register:
https://laverne.webex.com/laverne/onstage/g.php?MTID=e56b14ead7e53019e511a973d456a4eeb
Thank you to those who were able to join our first completely virtual State of the University address last week. The full recording is available for viewing on the MyLaVerne Portal, along with a virtual suggestion box. Both can be found under Quicklinks > State of the University (see screenshot below). If you have any input, feedback, ideas, or suggestions you would like to be considered as we work to address our fiscal sustainability and mission continuity, please submit them by April 24.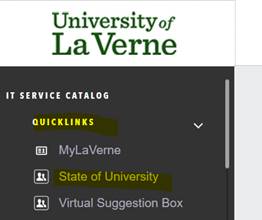 Again, thank you for your commitment to the University of La Verne as we come together as one community.
Sincerely,
Devorah Lieberman, PhD
President
---