University of La Verne Bhutto-Ispahani Speaker to Address Immigration and Other Issues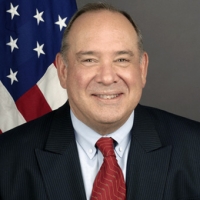 The establishment of a communist government by Fidel Castro in Cuba prompted more than 14,000 children to flee the country for Miami in the early 1960s. Among them was Eduardo Aguirre, who not only survived the ordeal, but later became the first director for U.S. Citizenship and Immigration Services.
Aguirre, now a Texas international business consultant, is the speaker for the Benazir Bhutto and Ahmed Ispahani International Lectureship on April 26 at the University of La Verne. The lecture will be from noon to 2 p.m. in Campus Center Ballroom A.
"My life has been relatively charmed in terms of professional and personal achievements, but I feel really strongly that only in America would I have been able to accomplish what I have been able to accomplish," Aguirre said.
His lecture "Only in America: From Immigrant to Head of Immigration Services and More" will provide his perspectives on immigration that remain relevant a decade after his service as immigration director, said Juli Minoves-Triquell, associate professor of political science and interim director of the International Studies Institute (ISI).
Minoves-Triquell worked with Aguirre in the mid-2000s while serving as foreign minister of Andorra. Aguirre is the former U.S. ambassador to Andorra and Spain.
"It's a series of circumstances that I think will allow our campus community to ask questions and have a dialogue about the policies regarding immigration, and international political and economic relations of the United States. Ambassador Aguirre is a Latino who has served the U.S. at one of the highest levels of government," Minoves-Triquell said.
The lecture series was established by alumnus and Trustee Paul Moseley in 2007 and features renowned speakers with expertise in international issues. It honors the legacy, leadership, and courage of Benazir Bhutto, the 11th prime minister of Pakistan, and her cousin, Dr. Ahmed Ispahani, professor of business administration and economics.
Aguirre held multiple global executive roles with Bank of America for more than 24 years before entering public service. In 2001, he joined the Department of Homeland Security after being acting chairman and CEO of the Export-Import Bank of the United States.
He became the first director for U.S. Citizenship and Immigration Services in 2003, leading a team of 15,000 employees who annually served more than seven million applicants seeking immigration benefits.
Then President George W. Bush appointed him U.S. Ambassador to Spain and Andorra in 2005. In that role, he addressed national security issues, defense cooperation, and commercial, trade, and economic interests. Aguirre worked to ease tensions between Spain and the U.S. after Spain withdrew troops from Iraq in 2004.
Aguirre said he succeeded by focusing on common ground – issues that interested both countries such as counterterrorism, counternarcotic, and many others.
"We spent a lot of time on what we had in common, but we also spent some time on areas where we didn't necessarily see eye to eye," Aguirre said.
What: The Benazir Bhutto and Ahmed Ispahani International Lectureship featuring Eduardo Aguirre, former U.S. Ambassador to Spain and Andorra
When: Noon to 2 p.m. April 26
Where: University of La Verne, Campus Center Ballroom A, 2000 Second St., La Verne.
Information: Juli Minoves-Triquell, jminoves-triquell@laverne.edu or Kristin Howland, khowland@laverne.edu or 909-448-4454
---