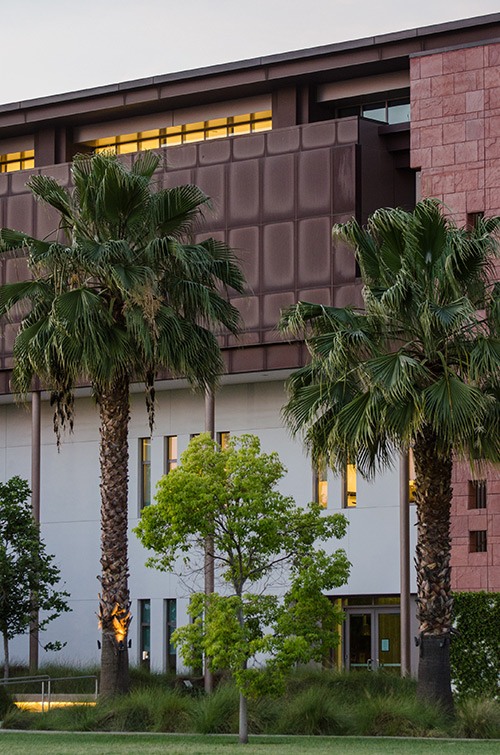 The Abraham Campus Center (ACC) is more than just a place where students, faculty and staff relax, eat, study, and socialize. It is designed to be one of the greenest buildings on the La Verne campus.
When it opened in summer 2009, ACC was presented LEED Silver certification under the U.S. Green Building Council's Leadership in Energy & Environmental Design certification system for new construction (LEED-NC). It is the university's first building to receive LEED certification.
Additionally, the building serves to reaffirm the university's goal to "promote appreciation and preservation of biodiversity by helping students understand the impact/dependence of human beings on their environment," a fundamental tenet of the institution's core values.
Responsible Construction: Sustainable from the start
During construction, care was taken to prevent soil erosion, minimizing contaminants from spreading throughout the site. Almost 75% of all construction waste was recycled and sustainable materials were included in the building as design elements, enhancing not only the facility's aesthetics but also its durability and sustainability.
Ornamental vegetation used in conjunction with construction features non-invasive or California-native species. These not only align with the region's look and feel, they are also drought tolerant, eliminating the need for excessive watering. The landscaping is another example of La Verne's dedication to enhance and maintain its campus in sustainable and meaningful ways.
Continuing Care: Campus Center commitment
To help better regulate water use, automatic infrared sensor faucets are featured in the restrooms. Additionally, low-flow urinals and low-flow toilets are installed throughout the building, minimizing water consumption by 38.8% over a single year with an expected savings of 51,844 gallons. As regards energy use, ACC exceeds California Title 24 standards by 22.4 percent.
To help prevent future pollution, the building's heating, ventilation, air conditioning and refrigeration (HVAC&R) systems do not use chlorofluorocarbon-based refrigerants and low- and no-volatile organic compound materials. Finishes installed throughout the building include caulks, sealants, paints, carpeting adhesives, and other building materials.
To ensure a high standard of quality for its indoor environment, the university maintains a smoke-free campus and complies with state and city smoking ordinances. Furthermore, preferred parking is now reserved for low-emitting and fuel-efficient vehicles.
Contaminants are effectively "checked at the door" with the extensive use of walk-off mats at each entry point. Use of these relatively benign products inhibits dirt, pesticides, and other contaminants and prevents them from permeating the building's interior, enhancing indoor air quality throughout the entire facility.
Lighting the space was an essential part of the design process. The architects worked to draw on as much natural light as possible while also ensuring work spaces be well-lit and energy efficient. Windows and glass walls were installed throughout all office spaces, allowing sunlight to permeate the common areas. Multipurpose rooms were fitted with wall-mounted and occupancy sensor controls to adjust light levels for varied group needs. Individual workstations and offices were provided access to lighting controls to suit the occupants' needs. And temperature and humidity controls were strategically placed within the building to help regulate the indoor environment in response to the varying Inland Empire climate.