Due to the COVID-19 pandemic, the University of La Verne is operating remotely. You may continue to contact staff by e-mail and phone. For additional information, please visit the university's COVID-19 website.
La Verne Online is a top-ranked online school with both bachelor's and master's degree programs available through the University of La Verne. These programs are at the forefront of online education and are taught by the University of La Verne's experienced faculty in a way that is both flexible and convenient.
We offer degree programs that can be completed entirely online. La Verne's distance programs are available to residents in select states at this time. Please visit our State Authorization page to see if your state of residence is available.
Online Undergraduate Programs
Online Graduate Programs
Innovative Learning Environment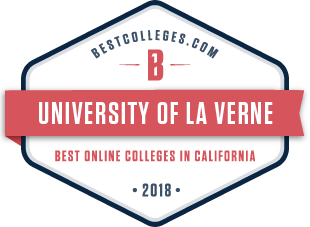 La Verne Online combines the high-quality education from the University of La Verne's regional campuses with the convenience and innovation of online learning. Class sizes are small, which allows for individualized support for students.
BestColleges.com identified the University of La Verne as one of the Best Online Colleges in California in 2018.
Admission
Contact La Verne Online's Associate Directors of Recruiting: