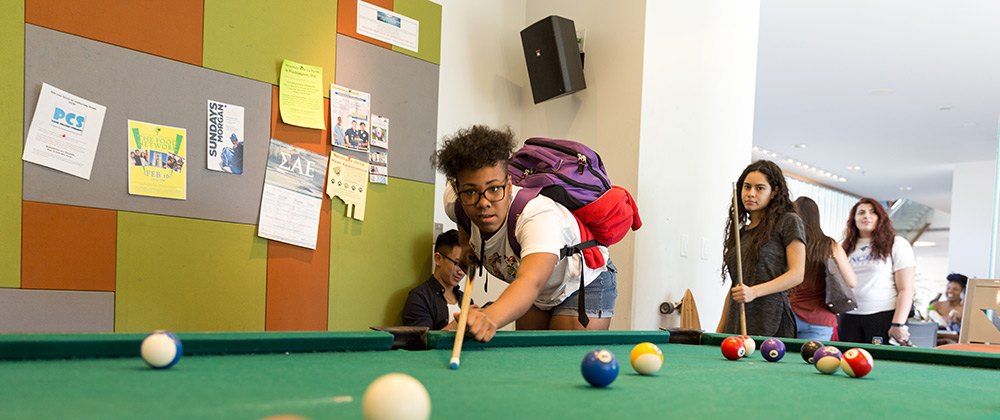 The Campus Center is a vibrant social hub in the heart of the La Verne campus. It's a role that isn't taken lightly – there are a number of places inside where friends and colleagues can relax, play games, catch up, or take in some of the spectacular views of the San Gabriel Mountains.
Romero Family Lounge
The Romero Family lounge is the perfect place for students, faculty, and staff to unwind. Located on the first floor, this spacious rest stop includes comfortable seating to go along with serious gaming. Facilities and video game stations include:
Nintendo Wii U;
Sony PlayStation 4;
Microsoft's Xbox One; and
two billiard tables.
Rinehart Lounge
Located at the top of the stairs on the second floor, just outside the offices of Undergraduate Admission and the Academic Success Center, Rinehart Lounge is the ideal space to focus on the task at hand. With plenty of natural light, a calm atmosphere, and easy access to classrooms, art galleries, and student services, Rinehart Lounge is a focal point for homework or catching up with friends..
Laird Lounge
Laird Lounge houses Campus Center's big-screen television. Watch a big game or your favorite movie before heading to class.
Root Lounge
Root Lounge is located on the first floor. It's an open communal area with couches and chairs to meet up with friends or just sit alone to do some homework.