The Academic Success Center provides free one-on-one and group peer tutoring to graduate and undergraduate students in a wide variety of courses and subjects. Make an appointment today.
First time making an appointment? See instructions below on how to register for an account.
Register for Account
Go to the online scheduler log-in page
Select Click here to register open the registration form
Fill out all required fields

use your "@laverne.edu" email address; the account activation link will be sent to to this email
Double check your name, email and student ID number for typos
Click on Register button
Go to your "@laverne.edu" email inbox, and click on the account activation link in the body of the email to get logged in and book your own appointments
Make an appointment
Select a schedule to make an appointment. Writing Tutoring is the default schedule, so if you require tutoring in Math or another subject, select a schedule that best reflects the subject area you need.  You have two places to select a schedule:

On the main log-in page, beneath the field for your password

After logging in, at the top of page alongside the week's date range
Choose a day or week:

Select a class/topic
Next select your class by using the Limit to… pull down
Enter appointment details

Set your appointment time for a half hour or a whole hour
Identify the class and the assignment
Provide details to help your tutor know what you will want to work on
Click Save Appointment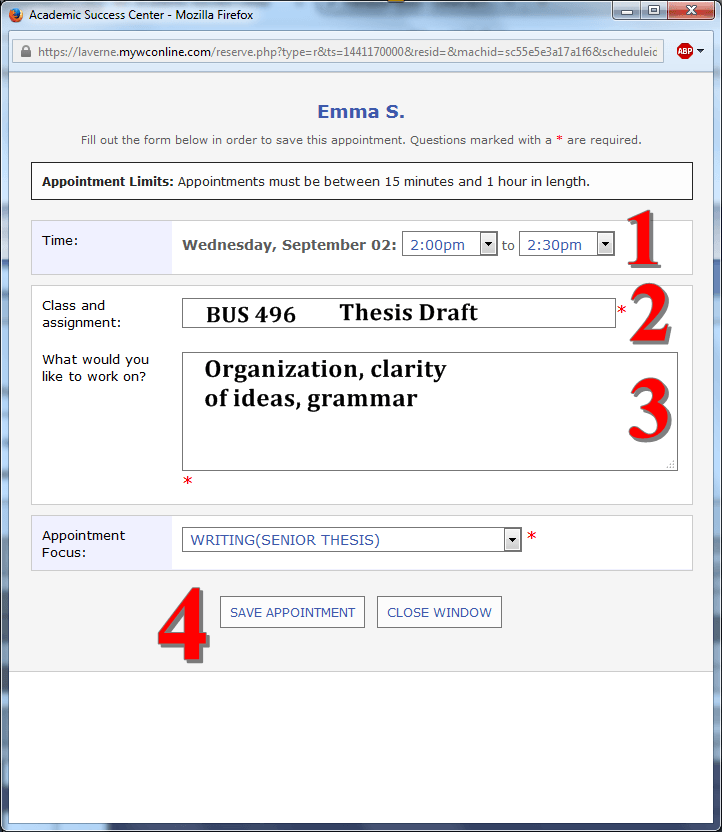 Edit an appointment
Go the appointment in WCOnline and click on your appointment (it is colored YELLOW) to open it.
Edit your details, and then click on Save Changes.
Cancel an appointment
Go the appointment in WCOnline and click on your appointment (look for the YELLOW box) to open it.
Click on Cancel  This Appointment.
Check your appointments
Log in to WCOnline
Click on the arrow beside where it says "Welcome [your name]"
Select My Appointments to display date and time