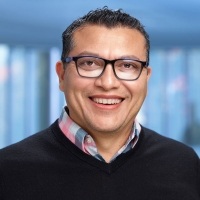 Adonay Montes
Associate Professor, Education
Main: (909) 448-4705
Barkley Building 5
Born in San Salvador, El Salvador, Professor Adonay Antonio Montes came to the United States at the age of 14 and spent his remaining childhood in La Puente, California. Dr. Montes is an Assistant Professor, Chair of the M.S. in Educational Counseling and Director of the Spanish Bilingual Bicultural Concentration. Prior to joining the faculty at University of La Verne, Dr. Montes worked as an elementary school teacher, middle and high school counselor. Dr. Montes taught part time as an adjunct professor at ULV before joining the School Counseling program as a full-time faculty member.
Dr. Montes enjoys being a scholar and a catalyst for change.  His research agenda encompasses working with diverse populations, counselor leadership, bridging school and community ties, immigrant and youth development of possible selves, parent education, community and civic engagement, and critical pedagogy. Other interests include mindfulness practices, emotional literacy, qualitative research and college and university access for underrepresented students.
Dr. Montes' work has been published in peer-reviewed journals; he has presented his scholarly work in state, national and international conferences. His work has also been featured in the Los Angeles Times, NBC and Telemundo.
Dr. Montes enjoys spending time with his family, reading, hiking and riding his road bike.
Educational Background
Ph.D., Claremont Graduate University
M.S., San Diego State University
B.A., California State Polytechnic University, Pomona