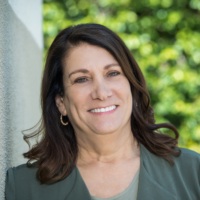 Dr. Cindy Giaimo-Ballard
Associate Professor & Program Chair of Child Development
Main: (909) 448-4649
Leo Hall
Dr. Cindy Giaimo-Ballard has been in the LaFetra College of Education since 2001. She is an Associate Professor in the Child Development Program, leads the undergraduate Child Development program as Chairperson, and oversees the delivery of the program at the University's main campus, regional campuses, as well as online. Teaching students how to use reflective thought processes is a priority. Through reflective practices, students contemplate on the reasons behind their pedagogy while aligning theory to practice.
Current projects focus on:
mentoring educators in designing nature-based learning environments that support the development of children's executive function and self-regulation skills.
assisting educators in developing curriculum that is culturally, linguistically and developmentally appropriate, anti-bias, and challenges children to solve problems, think critically, and to create which leads to higher order cognitive functions.
Prior to joining the faculty at the University of La Verne, she taught and administered early childhood programs for over 20 years. Cindy specializes in leadership, non-violent communication, teaching, Curriculum Development, Infant & Toddler (I/T) Development and I/T Curriculum.
Cindy is a member of The National Association for the Education of Young Children, The American Educational Research Association and is a PITC (Program for Infant/Toddler Care) Certified Trainer.
Educational Background
Ed.D., University of La Verne
M.S., University of La Verne
B.S., University of La Verne
---
To explore the scholarship and creative works of University of La Verne faculty, please visit the Research Works profiles hosted by Wilson Library.