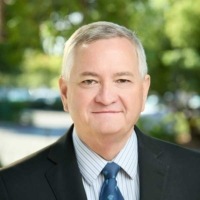 Scott Bonner
Office: (909) 616-7686
Fax: (888) 634-2140
College of Law and Public Service
Scott Bonner is an Assistant Professor of Law teaching courses in Wills & Trusts, Wills and Trusts Practicum, Property I and II, and Community Property. A graduate of the College of Law and Public Service, he has built a thriving practice in Estates and Family Law practicing in California, Texas, Arizona and Georgia. His teaching philosophy blends the academic and the practical with the hope of assisting students in entering the legal profession with skill and confidence.
Professor Bonner preceded his legal teaching career and legal practice with more than 30 years as a public educator and blends this long-practiced teaching experience with his legal practice at the College of Law and Public Service. He was a highly recognized public-school educator prior to entering his legal practice.
Professor Bonner taught as an adjunct Professor prior to joining the College of Law and Public Service full-time and was awarded the Adjunct Professor of the Year.
In addition to his Professorial duties and legal practice, Scott plays the trumpet, has twice ridden his bicycle across the United States, and through Scotland and England. He spends the rest of his time making wine and beer, and enjoying time with his attorney wife.
---
To explore the scholarship and creative works of University of La Verne faculty, please visit the Research Works profiles hosted by Wilson Library.