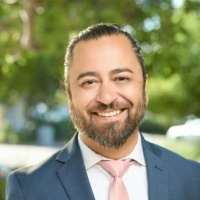 Jonathan Ibanez
Assistant Professor, Student Success Center
Office: (909) 460-2036
College of Law and Public Service 238
Jonathan Ibanez, a Southern California native, has spent his professional career both zealously representing clients against criminal charges and teaching students planning on entering the legal field.
Upon passing the bar in 2009, Jon joined a national criminal defense firm. Wanting more time in the courtroom, Jon left the firm in 2010 to pursue his own solo criminal defense practice based out of Long Beach. Since then, Jon has represented hundreds of clients in a variety of cases ranging from driving under the influence to murder.
In 2013, Jon joined a well-known and respected law firm based out of Los Angeles. Eventually, Jon became the senior associate and was entrusted with the firm's most serious criminal cases.
In addition to engaging in the everyday practice of law, Jon has a passion for sharing his love the law and legal system with students eager to enter the legal field. In 2012, Jon became an adjunct professor to several colleges in their paralegal departments teaching night classes. During that time, Jon coached students in moot court competitions, prepared them for a career in the legal field, and even helped them obtain gainful employment in the legal field. Jon has also been a guest lecturer at several well-known undergraduate universities and colleges in their respective legal departments.
In 2019, Jon left the practice of law to become a full-time law professor for the University of La Verne, College of Law and Public Service. Although Jon still assists law firms in an advisory capacity, Jon realized his true calling was to teach law to future attorneys to help them be the best attorney they can be for themselves, their clients, and the justice system as a whole.
---
To explore the scholarship and creative works of University of La Verne faculty, please visit the Research Works profiles hosted by Wilson Library.