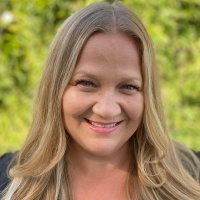 Kimberly Farina
Assistant Professor, Student Success Center
Office: (909) 460-2059
College of Law and Public Service 234
Professor Farina joined the University of La Verne, College of Law and Public Service in January 2019. She loves teaching the theory of law and watching students pursue their dreams.  As the first member of her family to go to law school, she has a passion toward helping first year students overcome their personal barriers to success.  She believes in holding her students highly accountable while helping coach them each step of the way.  She also feels the key to law school is doing the work, surrendering to the process and perseverance.
Growing up in southeast Los Angeles, she developed a passion toward social issues such as inclusivity, understanding implicit bias and eliminating micro-aggressions. She enjoys working with local law enforcement agencies to bring awareness and change as a certified California Standard and Training in Corrections (STC) instructor.  She also conducts trainings in this area for our faculty as well as our incoming students during orientation.
Outside of La Verne, Professor Farina manages First Responder Divorce, a mediation firm specializing in a unique out of court divorce process that saves time and money for her clients. She has seen first-hand how divorce can tear apart families, but also knows that the impact can be lessened by redefining the process to help the family move forward.
Prior to joining the College of Law and Public Service, Professor Farina was a professor and academic dean at a local college for 14 years.  Under her leadership the college started several new programs, obtained multiple accreditations, and opened a new campus. She taught over 150 courses, mostly focused on criminal justice, but her most proud accomplishment was starting a Moot Court competition program where she worked with undergraduate students who wanted an opportunity to compete in moot court tournaments with other universities. Additionally, she taught Family Law and Crimes Against Consumers at Cal State Long Beach and worked with Cognella Publishing to publish her anthology, Crimes Against Consumers.
---
To explore the scholarship and creative works of University of La Verne faculty, please visit the Research Works profiles hosted by Wilson Library.