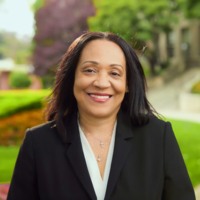 Dr. Sandra Burns PhD, MSN-Ed., RN
Office: (909) 448-4421
La Verne / Founders Hall 214A
Dr. Sandra Burns began her career as an associate degree RN, in 2002, at Kaiser Foundation Hospital, Fontana, CA., on a med/surg unit and expanded her role to ED Charge Nurse. While earning her bachelor's degree at CSU Fullerton, in 2005, an APRN asked if she would consider writing a teaching program to help cross-train nurses, which Kaiser adopted as a regional training program. She found herself drawn to teaching as a way to make an impact on the profession of nursing.
In 2010, Dr. Burns earned a master's degree in nursing w/specialization in Nurse Educator at Kaplan University. Her passion led her to teach a variety of courses in vocational nursing, associate degree nursing, BSN, ABSN, RN-to-BSN, ELMSN, and MSN programs (campus and distance learning). She enjoys engaging with adult learners and fostering a multiculturally diverse experiential learning environment. Culture, cultural competency, diversity, equity, inclusion, and belonging is central to her core values, beliefs, educational philosophy, and scholarship.
Dr. Burns is a PhD prepared nurse scientist. In 2018, her most rewarding academic experience was the doctoral dissertation, "Faculty Cultural Competency Teaching BSN Pre-Licensure Programs California State University (CSU) System." The CSU system is the largest public university system in the nation with over 50% diverse student enrollment. She knew the findings would help advancement in nursing education and practice.
Her leadership roles in nursing education include: Associate Dean Nursing, Director of Nursing Education, Nurse Education Consultant, Subject Matter Expert (SME), Course Development, Content Contributor, Nurse Researcher, Author, and program development.
Dr. Burns is a lifelong learner with a passion in nursing program development for nurses to gain evidence-based knowledge and continuing professional development.