Knowledge of the Artists: Art 390 Curatorial Practices
May 18, 2023

-

May 23, 2023

FREE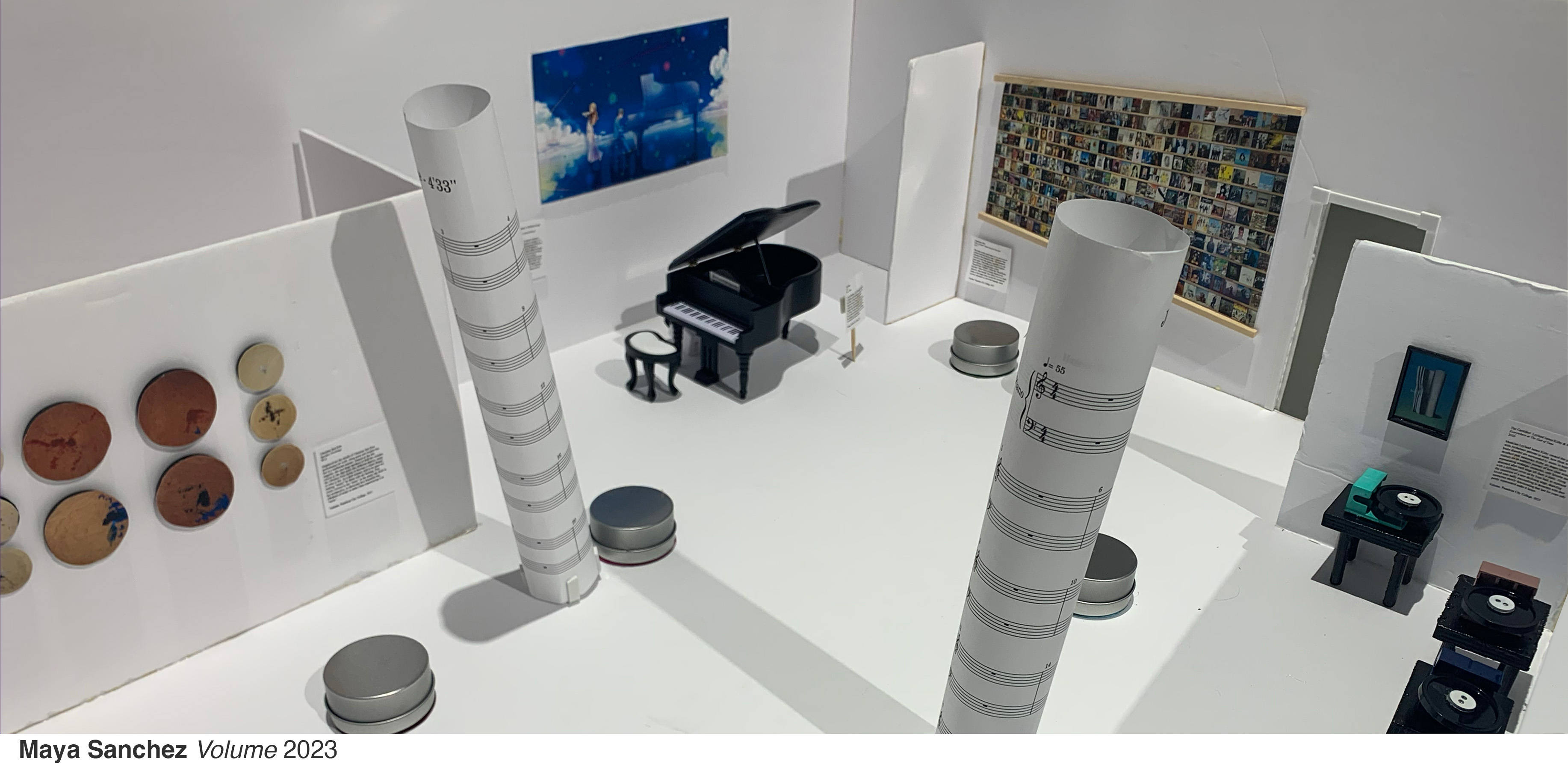 Syndri Alvarez
Luis Carranza Bravo
Gabriela Guzman
Arely Jimenez
Nikolina Katanic
Laryssa Lahn
Ysabela Montes
Elizabeth Ortegareyes
Hayley Perez
Maya Sanchez
Ethan Solis
Sam van der Linden
Unlike the usual works displayed in the Harris gallery, the journey of artists as curators is documented and exhibited in Knowledge of the Artists. Twelve of the University of Laverne's own students have hand selected themes and developed them into curatorial exhibits to be showcased. In doing so they have set a foundation for their own future exhibitions.
Syndri Alvarez showcases artists whose works represent love of all forms in her exhibit titled Ages of Love. The exhibit pays special attention to the concept of demonstrating loving relationships between people, no matter what that looks like. Not only is romantic love represented here, but so is platonic love.
In Graphic Novels Throughout the Decades, Luis Carranza Bravo demonstrates the forms graphic novels have taken and how they have been affected by events of their time. Since the 1800s, the techniques, art styles, and content of the stories have consistently changed and will continue to do so.
Gabriela Guzman takes viewers for a ride in her exhibit White Horse. Utilizing artists and their different backgrounds, Guzman has "developed the symbolization of the white horse of innocence and spirituality" in the form of a wild creature.
Arely Jiminez takes inspiration from traditional still lifes of food but in modern mediums, in her exhibit Los Angeles Contemporary Food Art. Based on media such as crocheting, oil and digital painting, the essence and experience of food is captured.
Nikolina Katanic showcases the history of Serbia through its cultural art in the exhibition Serbian Art of War and Triumph. Either as a longtime fan of the era or a newcomer to its delights, this exhibition provides a glimpse into a time when creativity and rebellion went hand in hand, and the art was as mind-bending as the music.
Laryssa Lahn depicts a pivotal role played in women's lives in her exhibit Motherhood, by showing the drastic impact it has on their bodies, minds, and emotions. These impacts come with little to no accommodations and acknowledgement, however, this doesn't always deter women from motherhood, as there is a possibility of longing to nurture and raise children.
Sam van der Linden's Games Across Seas presents 1980's iconic games such as Pac-Man Sonic and others' true origin stories that occurred halfway across the world in Japan. Detailing the major transformation these beloved games underwent to intrigue western audiences that are still noted as historical to the gaming community to this day.
Ysabela Montes views color as an important aspect which brings meaning and life to all things. Color has the power to make anything it touches beautiful and full of emotion. Through her exhibit Color of Perspective, we are then able to reflect on said emotions.
Hayley Perez has flourished her topic on Independent Developers in Modern Gaming with a focus on one artist, Eric "ConcernedApe" Barone. Focusing on the development of his first video game, Stardew Valley, the progress in the game itself and how he evolved as an indie video game developer is showcased.
Elizabeth Ortega Reyes has created an exhibition titled Step Forward. With the theme being women shaping contemporary art and influencing revolutionary change, it showcases the art of feminist women. These pieces then address self identity, death, religion, nature and social issues.
Maya Sanchez, Volume, selects artists who pushed the boundaries between music and noise as one and the same. Expanding on the artist's perspective on how music and art interact with each other's various volumes.
Ethan Solis' Psychedelia Pop-Up pays tribute to psychedelic art and the genre's ability to transport viewers to another realm. Referencing 1960's artists, posters, and albums that directly intertwined with the theme of rebellion under art, politics and music, mesmerizing yet trippy designs have been birthed.
---
Curatorial statement by Syndri Alvarez and Maya Sanchez 2023
Related Events