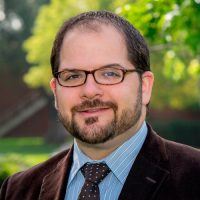 Aaron Baker
Associate Professor, Psychology
Main: (909) 448-4431
La Verne / Hoover Hall 215
Aaron Baker received his PhD in clinical psychology from the University of California – Los Angeles in 2012. His clinical and research interests are broadly focused on the treatment of anxiety and trauma-related disorders, with a public health perspective of making extant treatments more effective and ultimately more efficient. He is the director of the Anxiety & Trauma Lab at the University of La Verne, which explores cognitive and behavioral mechanisms in exposure-based treatment using subjective, objective (e.g., psychophysiology), and behavioral indices of fear and learning. This includes applying animal models of fear learning and extinction to exposure and looking at mechanisms of inhibition in the treatment of trauma, as well as cognitive models of memory formation and consolidation. More recently, he has developed an interest in developing measure to better understand treatment outcome, designing questionnaires that assess functional impairment in order to build a more complete picture of how people are functioning in the context of their clinical symptoms. He teaches courses in the areas of: 3rd wave behavioral treatments, research methods & experimental psychology, cognitive and affective Bases of behavior, and the history of psychology. Dr. Baker is a licensed psychologist and is designated as core doctoral faculty.
Dr. Baker's scholarly work can be found at Google Scholar and ResearchGate.
Educational Background
PhD in Clinical Psychology, UCLA
---
To explore the scholarship and creative works of University of La Verne faculty, please visit the Research Works profiles hosted by Wilson Library.