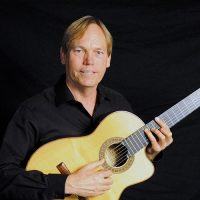 Michael Ryan
Main: (909) 448-4922
Founders Hall
Michael teaches private guitar instruction, class guitar, guitar ensemble and songwriting at the University of La Verne.
Michael performs throughout California and every summer in Europe. His production company produces and performs three unique concerts with an ensemble of musicians and dancers: "Gypsy Passion", "Spirit of Ireland" and "Brazilian Nights". Michael has five internationally distributed CDs: "Between Earth and Sky", "Romance", "What If", "A Classical Guitar Christmas", and  "Carnaval de Guitarras".
Michael is a member of ASCAP, (American Society of Composers, Authors and Publishes)
Educational Background
MA in Music, California State University, Chico;
BA in Music, University of La Verne.
---
To explore the scholarship and creative works of University of La Verne faculty, please visit the Research Works profiles hosted by Wilson Library.