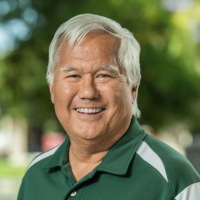 Dr. Paul Alvarez
Main: (909) 448-4092
La Verne / Sports Science and Athletic Pavillion B201
After competing in cross-country and track in high school and college, Dr. Alvarez became an injured athlete and discovered the field of athletic training. He did most of his undergraduate athletic training experiences at American River Community College in Sacramento while completing his degree at California State University, Sacramento. He then served as the athletic trainer for Thurston High School in Springfield, Oregon, while attending the University of Oregon for his Master's Degree. Dr. Alvarez began at the University of La Verne in 1987 as a part-time assistant athletic trainer, then was made a full-time faculty and assistant athletic trainer in 1989. While at La Verne, Dr. Alvarez has served in a number of roles, including Head Athletic Trainer, Department Chair, and Athletic Training Program Director. In addition to his 24 years serving the health care needs of the University of La Verne student-athletes, Dr. Alvarez has been part of the medical staff for the USA Team to the World University Games, participating in 6 events including 2009 (Belgrade, Serbia), 2011 (Shenzhen, China), 2013 (Kazan, Russia), 2015 (Gwangju, Republic of Korea), 2017 (Taipei City, Taipei), and 2019 (Naples, Italy). Currently, he teaches several courses in the Kinesiology Department, including  the FLEX Fitness for Life course, Methods of Research, Senior Thesis, and American Values in Sports Films.
Educational Background
Academic Degrees:
Bachelor of Science in Physical Education – Athletic Training Emphasis; California State University, Sacramento
Master of Science in Physical Education – Athletic Training Emphasis; University of Oregon
Doctor of Philosophy, Education – Curriculum and Instruction Emphasis; University of California, Riverside
Awards / Honors
Faculty/Staff "Homecoming Hero", 2017
National Athletic Trainers' Association Service Award, 2015
University of La Verne Latino Student Forum Ernie Granillo Service Award, 2011 and 2014
University of La Verne Convocation Speaker – "Incandescent Moments". Fall, 2013
Ellsworth Johnson Faculty Service Award, University of La Verne. Spring, 2013
Far West Athletic Trainers' Association Special Service Award. Spring, 2009
---
To explore the scholarship and creative works of University of La Verne faculty, please visit the Research Works profiles hosted by Wilson Library.