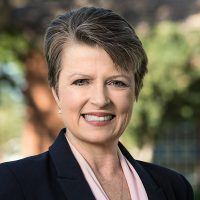 Sherri Mylott
Vice President, University Advancement
Main: (909) 448-4513
Hanawalt House / La Verne
Sherri Mylott joined the University of La verne in February 2017 and serves as the vice president of University Advancement. She has more than 25 years of experience in development serving as vice president at institutions small and large and she has participated in five successful comprehensive campaigns. Recently, she served as vice president for development at Virginia Tech, where she led its eleven-unit university programs division in raising $373 million.
Mylott has developed and implemented successful fundraising strategies while creating entrepreneurial environments and a culture of collegiality. In each of her roles, she has been a successful principal gift fundraiser, has provided administrative oversight, and has mentored and trained development and alumni officers.
Mylott earned a BA from the College of William & Mary and a Masters of Public Administration from Old Dominion University, both in Virginia. She has also received a Certificate in Fundraising Management from the Indiana University Lilly Family School of Philanthropy and a Certificate in Leadership from Virginia Commonwealth University.