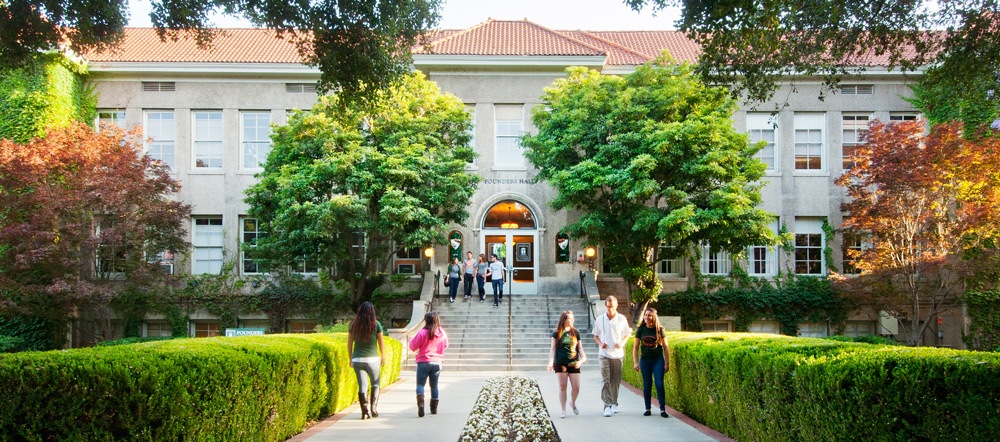 The University of La Verne was founded in 1891 as Lordsburg College by members of the Church of the Brethren. Both the college and the agricultural community were renamed La Verne in 1917.
Through the next three decades, campus facilities multiplied fourfold, the Board of Trustees became independent of church control, and enrollment surged. In the 1960s, the college awarded its first master's degree, and in 1979, it conferred its first doctorate. In 1969, La Verne began offering degree programs off campus, and the following year it opened the College of Law.
The college reorganized in 1977 as the University of La Verne before founding regional campuses in Irvine (1981) and Burbank (1983). A decade later, campuses in Oxnard, Ontario, and Victorville followed, and in 2000 a separate campus for the College of Law was also established in Ontario. To further improving access and services for students, the university later developed a presence in both Bakersfield and Victorville.
Today, the University of La Verne is dedicated to the belief that a quality, values-based education enriches the human condition by engendering community engagement, scholarly accomplishment, and professionalism.
Throughout the past decade, La Verne has renovated or newly constructed more than half of its buildings and it completely developed the core of its La Verne campus. Some of the latest projects include a new residence and dining hall, state-of-the-art parking complex for more than 900 vehicles, the Johnson Family Plaza, and two LEED- certified buildings – the Sara and Michael Abraham Campus Center and Vista La Verne Residence Hall. The university has also developed Campus West, a new athletics complex for baseball and softball, while remodeling the Sports Science and Athletics Pavilion.