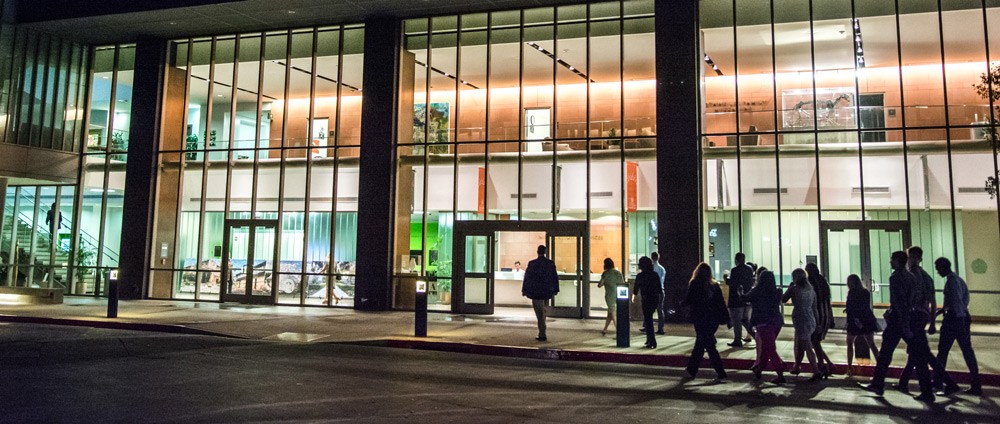 The University of La Verne comprises four colleges: the College of Arts and Sciences, LaFetra College of Education, the College of Business and Public Management, and the College of Law.
College of Arts and Sciences
The College of Arts and Sciences (CAS) offers over 50 majors, minors, and certificate programs, as well as two masters' degrees and a doctorate in Clinical Psychology. A dedicated faculty of scholar-teachers lead students toward achieving excellence both in their chosen field and in an enlightened life of service by helping them discover and develop their unique talents. Each undergraduate major offers a hands-on or research capstone project, and the January interterm offers an intensive learning experience that permits local, national, and international study opportunities.
LaFetra College of Education
The LaFetra College of Education (LFCE) includes undergraduate programs in education as well as several masters' degrees and a doctorate degree (EdD). LFCE develops outstanding leaders and education professionals, caring individuals who impact instruction on all scholastic levels. Operating under four guiding principles – caring, excellence, leadership, and diversity – LFCE creates exceptional learning opportunities that foster intellectual, ethical, and social responsibilities within its students, instilling the knowledge, skills, and disposition in each to imagine, explore, and design the future. It established institutes that foster dialogue in the fields of child development, educational policy, and school reform. An innovative, customized assessment program lays the foundation for LFCE's effort to achieve National Council for Accreditation of Teacher Education accreditation.
College of Business and Public Management
The College of Business and Public Management (CBPM) includes undergraduate programs in business, public administration, and health management as well as masters' degrees in business, finance, data analytics, accounting, organizational leadership, health, and public administration (NASPAA accredited) and a doctoral degree in public administration. CBPM offers a broad-based management education that emphasizes the application of theory to management practice and builds the conceptual skills and core values its students need to become effective leaders and managers in business and public management. Years of providing pertinent curriculum focusing on effective decision making and stressing the knowledge relevant in today's challenging global environment  have earned the college an excellent reputation within the business, public administration, and professional communities. In addition, it has a proud tradition of engaging students in case studies of regional businesses to examine market analysis and business plans.
College of Law
The College of Law (COL) is located in Ontario, California. It is accredited by the State Bar of California and offers a rigorous academic program for its JD that provides a solid foundation in legal theory, lawyering skills, analytical thinking, and ethics and professionalism – areas critical to the modern practice of law. Both curricular and co-curricular programs are structured so that a student's legal education is grounded in the real world, preparing future lawyers to put the law to work. The College of Law has produced a substantial body of scholarship with national and global recognition.
Attending each of these colleges, La Verne's more than 7,000 students help make the university one of the most diverse campuses in the nation.
A Commitment to Service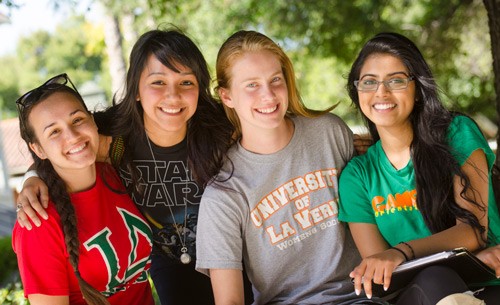 University of La Verne's student ethnicity and diversity statistics include 44.5% Latino/Hispanic, 19.5% Caucasian, 5.8% African American, 4.4% Asian American/Pacific Islander, 0.7% American Indian/Alaska Native, and 25.1% Other identities. The university is recognized by established Federal standards as a Hispanic Serving Institution (HSI) with a diverse community of students, 58% of whom declared themselves minority. Graduation rates for African American and Hispanic students are typically 15-20% above the national average, due in large part to the engagement of the faculty.
Along with encouraging diversity, University of La Verne focuses on the individual, as evidenced in its low student/faculty ratio. Professors are personally engaged and committed to helping students achieve their academic and professional goals.
The University has a long history of commitment to service. For more than 50 years, La Verne has sponsored a Summer Service program that partners with non-profit organizations in which students serve in various capacities. In addition, all undergraduates fulfill a community service requirement, while community engagement takes place in courses and through student clubs and organizations.