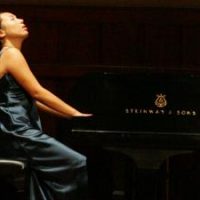 Grace Xia Zhao
Associate Professor, Music
Main: (909) 448-4919
Founders Hall / La Verne 26
Pianist Dr. Grace Xia Zhao is an award-winning, international solo and chamber music artist, with credits that include performances in the United States, Italy, France, Germany, Austria, Switzerland and China. Her performances have been broadcasted on KUSC (Los Angeles) and KASP (Aspen) and her playing has been characterized as being, "performed at the highest level, with incredible musical sensibilities and beauty."
Dr. Zhao began her music education at the age of three in Sichuan, China. Awarded with a full-tuition scholarship to study at the University of Southern California Thornton School of Music, she went on to earn a BM, MM, and Doctor of Musical Arts Degree in Piano Performance, with minors in Music Education, Ethnomusicology and Electro-Acoustic Media. Upon graduation, she was inducted into the Pi Kappa Lamda National Music Honor Society for her exceptional academic achievements. Her mentors include some of the most influential artists and teachers of our time, Antoinette Perry, Yang Hanguo, John Perry and Andrzej Jasinski to name a few. Dr. Zhao is an Associate Professor of Music at the University of La Verne.
Dr. Zhao lives in Los Angeles with her husband and two children.  Besides all things piano, she loves all kinds of music.  Other interests of hers include psychology, athletic training, architecture and cooking.
Dr. Zhao's creative work can be found at her personal website.
Educational Background
BM, MM, DMA, University of Southern California.
Faculty Website