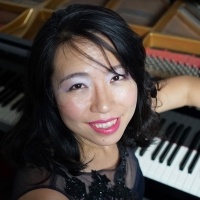 Dr. Grace Xia Zhao
Associate Professor, Music & Music Department Chair
Main: (909) 448-4919
La Verne / Founders Hall 26
Pianist Dr. Grace Xia Zhao sees music as a vital tool for eudemonia – the Greek term for a well-lived and flourishing life. As musical beings, humans need to live with and express themselves through music to embrace the full life. Such belief has guided her throughout her work as a performing pianist, music educator, and scholar. Every aspect of her work explores how engaging with music expands our ability to live more profoundly, and she strives to examine and communicate this central message to her audience, whether on stage or in the classroom.
Born in Sichuan, China, Dr. Zhao began playing the piano at age three. Her playing has been characterized as "performing at the highest level, with incredible musical sensibilities and beauty". Dr. Zhao's award-winning international solo and chamber career credits include performances in the United States, Italy, France, Germany, Austria, Switzerland, and China. Some highlights of her performances include solo recitals at the National Performing Arts Center in Beijing and concerto performances with Sichuan Philharmonic Orchestra and Barbaresco Symphony Orchestra in Italy. She has recorded for film scores such as "Journey to Space" and "A Leading Man" and worked as a piano consultant with Director Matthew Weiner for the Amazon studio TV series "The Romanoffs."
Dr. Zhao holds a BM, MM, and Doctor of Musical Arts Degree in Piano Performance, with minors in Music Education, Ethnomusicology, and Electro-Acoustic Media from the University of Southern California. She also holds a master's degree in Applied Positive Psychology from the University of Pennsylvania.
Dr. Zhao founded Project Harmonia in 2022, a practice focusing on musical approaches to well-being. She is an Associate Professor of Music and Music Department Chair at the University of La Verne in Los Angeles.
Dr. Zhao's creative work can be found on her personal website.
Educational Background
Doctorate of Musical Arts, MM, & BM, University of Southern California.
Master of Applied Positive Psychology, University of Pennsylvania.
Additional Information
Current research interests
Recreational Music Making and its effect on college students' well-being
Music as a positive intervention to promote flow, mindfulness, emotional intelligence, and creativity
Well-being curriculums for collegiate musicians
Faculty Website
---
To explore the scholarship and creative works of University of La Verne faculty, please visit the Research Works profiles hosted by Wilson Library.