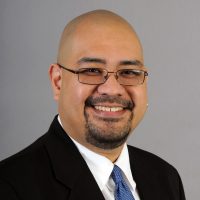 Prof. Ian Lising
Main: (909) 448-1544
La Verne / Miller Hall 122
Professor Ian T. Lising received his B.A. in Political Science from the Ateneo de Manila University in the Philippines. He received his M.A. in Education from the University of La Verne. He was a lecturer in the English Department and Interdisciplinary Studies Program and Debate Coach of Ateneo from 1994-1999. He also taught English at Ateneo High School from 1994-1997 and Communications and English at the Assumption College, San Lorenzo from 1997-1998. He began coaching the ULV Forensics Team in the fall of 1999 and started teaching in the Speech Communication (now Rhetoric and Communication Studies) Department in 2000.
Professor Lising was the co-Founder, Chair and Coach of the Ateneo Debate Society from 1991-1998. He coached the 1st Asian Debate Champion team at the inaugural event in 1995. In 1999, he served as the Championship Director of the World Universities Debating Championships (WUDC). Later that year, he coached the University of La Verne to the Final Round of the Oxford Union International Intervarsity Debating Championship. His teams from Ateneo and La Verne have become WUDC Octofinalists, Quarterfinalists, Semifinalists, and Grand Finalists. At the 2003 WUDC in South Africa, La Verne was the only American university to advance past the preliminary rounds. In 2007, La Verne won the U.S. National Championships. As a debater, Professor Lising was twice a Finalist at the World Masters Debating Championship.
He served as the World Debate Council Chair from 2002–2008 and was named World Council Member Emeritus. He is a six-time Grand Finals Adjudicator at the WUDC. He has also adjudicated the semifinal of the Australasian Debating Championships and the finals of the Yale Intervarsity, Oxford Intervarsity, Cambridge Intervarsity, Canadian University Society Intercollegiate Debate National Championships, U.S. Universities National Championships, and All-Asian Debating Championships.
At the University of La Verne, he teaches Fundamentals of Public Speaking, Argumentation and Debate, Persuasion and Social Influence, Science Communication, Results-Oriented Interviewing, Public Controversy and Criticism, Leadership Communication, Rhetorical Theory, and Voices of Revolution. The University appointed him Speech Communication Department Chair in 2009. In January 2016, he was appointed as Associate Dean of the College of Arts and Sciences. Lising has served on the International Studies Institute, CAS Curriculum committee, and on the University Faculty Senate. In 2017, to commemorate the University of La Verne's sesquicentennial, he was honored as one of its 125 Influential Individuals. He has written two books; Across the House: The Art and Science of World Universities Championship Debating (2010) and The Spin Doctrine: Communicating Belief, Truth and Fact (2019) through Kendall Hunt Publishing.
---
To explore the scholarship and creative works of University of La Verne faculty, please visit the Research Works profiles hosted by Wilson Library.