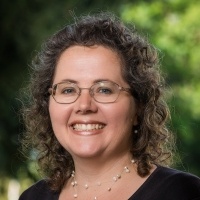 Jane Beal
Professor, English Literature
Main: (909) 448-1578
La Verne / Miller Hall 214
Jane Beal, PhD is a tenured, full professor and the chair of the English department at the University of La Verne, where she specializes in medieval and early modern English literature.
Her doctoral study of medieval Latin historiography, English translation, rhetoric, authority, and early modern audience reception led her to write her first academic monograph John Trevisa and the English Polychronicon (ACMRS/Brepols, 2012) and to co-edit the festschrift Translating the Past: Essays on Medieval Literature in Honor of Marijane Osborn (ACMRS, 2012).
Her admiration for the exquisitely beautiful, fourteenth-century, Middle English dream vision poem called Pearl inspired her to write The Signifying Power of Pearl: Medieval Literary and Cultural Contexts for the Transformation of Genre (Routledge, 2017), to co-author and co-edit Approaches to Teaching the Middle English Pearl (Modern Language Association, 2018), and to edit and translate Pearl: A Middle English Edition and Modern English Translation (Broadview, 2020).
On the reception of major religious figures in the Middle Ages, she also has edited Illuminating Moses (Brill, 2014) and Illuminating Jesus (Brill, 2019).
She is currently working on new projects about the Pearl-poet, the Polychronicon, and the mythology of J.R.R. Tolkien.

She is not only a literary scholar, but also a prolific poet. Among her many poetry collections are Sanctuary (Finishing Line Press, 2008), Rising (Wipf & Stock, 2015), and Song of the Selkie (Aubade Publishing, 2020). Her haiku, haibun, and haiga appear in the Asahi Haikuist, Fireflies' Light, Frogpond, Haibun Today, Haiku Journal, Illinois Audubon Society Magazine, and Presence: Britain's Leading Independent Haiku Journal, as well as in her four micro-chapbooks published by Origami Poems, Journey, Garden, Bliss, and Wide Awake and Dreaming. Her poetry-and-music audio recording projects include "The Secret Life," "Love-Song," and, co-created with her brother, the saxophonist and composer, Andrew Beal, "The Jazz Bird," available from iTunes, Amazon, and Spotify. She is a contributing poet and the editor of the poetry anthology Hail, Radiant Star! Seven Medievalist Poets (Finishing Line Press, 2019).
She writes magical realist fiction and creative nonfiction as well. Her short story collections include Eight Stories from Undiscovered Countries (Lulu, 2009) and Hourglass (under review). Her stories also appear in Crux Literary Journal, Dappled Things, Literature Today, Pacific Review, and The Voices Project as well as Main Street Rag's anthology, Law and Disorder: Stories of Conflict and Crime. Her creative non-fiction biographies of women writers, on such luminaries as Christina Markyate, Marie de France, Julian of Norwich, Margery Kempe, Queen Elizabeth I, Aemilia Lanyer, and Ruth Stone, appear in the volumes of Gale's British Writers and American Writers series. Her essays on the lives of midwives appear in the professional magazine, Midwifery Today. They celebrate women like Stanislawa Leszczynska, the midwife of Auschwitz, and Lanyero Karamela, a contemporary midwife of Uganda, East Africa, and many early modern American, English, and European midwives, too.

Her education, research, writing, and teaching have been generously supported by grants and fellowships over the years from a variety of sources, including the University of La Verne, the University of California, Davis, and the Medieval Academy of America. This support has encouraged her primary research on medieval manuscripts, early printed books, and the writings of J.R.R. Tolkien. She has worked in the special collections of the Huntington Library, the Library of Congress Rosenwald Rare Books Room, the Folger Shakespeare Library, the British Library, the Bodleian Library, the University of Leeds Library, and the Wade Center as well as many other libraries. Through her publications with presses in the United States, the United Kingdom, the Netherlands, Germany, and Japan, which have been made widely available both in print and online, her research has reached an international audience. Through her teaching, it has benefitted thousands of students whom she has taught across the country and around the world.
She aims to make her teaching creative, memorable, and relevant. She has taught over sixty unique collegiate courses, primarily in literature and creative writing, but also in allied fields. She teaches in traditional classrooms, and she also offers hybrid and online courses. With knowledge and enthusiasm, she seeks to appeal to all types of learners, using a variety of visual, auditory, and kinesthetic approaches. At the University of La Verne, she teaches medieval and Renaissance English literature as well as the "literature of the fantastic," which, according to Tzvetan Todorov, causes the reader to hesitate between believing a natural or supernatural, a realistic or marvelous, explanation for events described in a narrative.
Medieval & Renaissance Literature+
Literature
of the Fantastic
Foundations of Linguistics
British Literature I: Medieval, Renaissance, Restoration
Marie de France
The Pearl-Poet
Dream Visions
Shakespeare in Film
Literature of the Bible
British Literature II: Romantic, Victorian, Modern
Fairy Tales
Mythology of J.R.R. Tolkien
Magical Realism
Science Fiction
She also teaches first year learning experience (FLEX) seminars, supervises internships for English Majors, and coordinates Senior Capstone. As a mentor-teacher, she writes essays on effective pedagogy, which appear in This Rough Magic, The Once and Future Classroom, and SMART: Studies in Medieval and Renaissance Teaching as well as Approaches to Teaching the Arthurian Tradition (MLA, forthcoming). At all times, she loves to see her students learn, grow, and succeed.
Prior to joining the University of La Verne, Professor Beal received her BA (Sonoma State University), MA (Sonoma State University), and PhD (University of California, Davis) in English, with concentrations in biblical literature, classical mythology, and medieval and early modern literature, as well as a Certificate in Midwifery from Mercy in Action College of Midwifery. She served as a midwife in the U.S., Uganda, and the Philippines, and she taught at Wheaton College (near Chicago), Colorado Christian University (near Denver), and the University of California, Davis (between San Francisco and Sacramento) as well as the University of California Washington Center (in Washington, D.C.). To learn more about her and her work, please visit:
Educational Background
B.A., Sonoma State University
M.A., Sonoma State University
Ph.D., University of California, Davis
Faculty Website