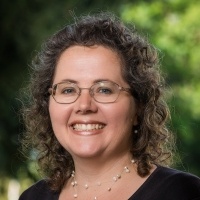 Jane Beal
Associate Professor, English British Literature
Jane Beal, PhD is an associate professor of English at the University of La Verne in southern California. In her research, she focuses on the fourteenth-century, Middle English dream vision called Pearl. She is the author of The Signifying Power of Pearl: Medieval Literary and Cultural Contexts for the Transformation of Genre (Routledge, 2017), editor and translator of Pearl: A Middle English Edition and Modern English Translation (Broadview, forthcoming), and co-editor of Approaches to Teaching the Middle English Pearl (Modern Language Association, 2017). She is currently editing A New Companion to the Gawain-Poet, which examines all five poems attributed to the poet: Pearl, Cleanness, Patience, Sir Gawain and the Green Knight, and St. Erkenwald.
She explores the relationship between medieval history writing, rhetoric, and translation in her academic monograph John Trevisa and the English Polychronicon (ACMRS/Brepols, 2012) and her co-edited festschrift Translating the Past: Essays on Medieval Literature in Honor of Marijane Osborn (ACMRS, 2012). She considers the reception of major religious figures in the Middle Ages in two edited volumes: Illuminating Moses: A History of Reception from Exodus to the Renaissance (Brill, 2014), for which she wrote the chapter on "Moses and Medieval Christian Contemplative Devotion," and Illuminating Jesus in the Middle Ages (Brill, forthcoming), for which she wrote "The Unicorn as a Symbol for Christ in Medieval Culture." She publishes regularly on the mythology of J.R.R. Tolkien.

She is not only a literary scholar, but also a poet. She has written twenty-five poetry collections, including Sanctuary (Finishing Line Press, 2008) and Rising: Poems for America (Wipf and Stock, 2015). Her poems appear widely in print and online, and they have been anthologized in Contemporary Poetry, Vol. 4, Old Crops from New Fields: Eight Medievalist Poets, Verse /Chorus: A Call and Response Anthology, and The Live Poets of Alexandria Anthology as well as in the devotional Closer to God. She has created recording projects that combine poetry and music: "The Secret Life" (Shiloh Studio of Sound, 2009) "Love-Song" (The Poetry Place, 2010) and with her brother, saxophonist and composer Andrew Beal, "The Jazz Bird" (Fire-Water Phoenix Studios, 2014), now available on iTunes, Amazon, and Spotify. She enjoys translating poetry from Hebrew, Greek, Latin, Spanish, and French, and she has published translations of poems by Pablo Neruda and verses from the Song of Songs.

She also writes fiction, speculative fiction, and creative non-fiction. Her short stories appear in Crux Literary Journal, Dappled Things, Literature Today, Pacific Review, and The Voices Project as well as Main Street Rag's anthology, Law and Disorder: Stories of Conflict and Crime. Her biographies of women writers – Christina Markyate, Marie de France, Julian of Norwich, Margery Kempe, Juliana Berners, Queen Elizabeth I, Amelia Lanyer, and Ruth Stone – appear in volumes of the British Writers and American Writers series published by Gale. Since 2012, she has been a regular contributor to the professional magazine Midwifery Today, which features her articles on midwifery practice and biographies of midwives in history.
Professor Beal is a knowledgeable, energetic teacher dedicated to the holistic learning of her students. She teaches in traditional, hybrid, and online educational settings, at the college level and in the community, and she always aims to make her teaching creative, memorable, and relevant. She seeks to appeal to all types of learners using visual, auditory, and kinesthetic approaches. As a mentor-teacher, she writes essays on effective pedagogy, which have appeared in This Rough Magic, The Once and Future Classroom, and SMART: Studies in Medieval and Renaissance Teaching. She has taught over fifty unique college courses in literature, creative writing, and professional writing as well as other fields. At the University of La Verne, she teaches a variety of courses, including:
English 270 Foundations of Linguistics
English 280 Science Fiction Literature and Film (FLEX)
English 351 English Literature I: Medieval, Renaissance, and Restoration
English 352 English Literature II: Romantic, Victorian, and Modern
English 409 Special Topics: Literature of the Bible
English 436 Major Authors: Mythology of J.R.R. Tolkien
English 499 Senior Examination
At all times, she loves to see her students learn, grow, and succeed. To learn more about her and her work, please visit:
Professor Beal received her BA (Sonoma State University), MA (Sonoma State University), and PhD (University of California, Davis) in English literature with concentrations in biblical, classical, medieval and early modern literature. She also holds a Certificate in Midwifery from Mercy in Action College of Midwifery. Before joining the faculty at the University of La Verne, she served as a midwife in the U.S., Uganda, and the Philippines, and she taught at Wheaton College, Colorado Christian University, and the University of California, Davis.
Educational Background
B.A., Sonoma State University
M.A., Sonoma State University
Ph.D., University of California, Davis