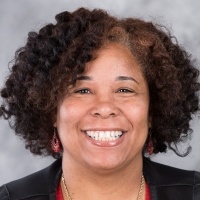 Shannon Mathews
Dean, College of Arts and Sciences
Office: (909) 448-4629
Hoover Hall 101
Shannon Mathews is the dean of the College of Arts and Sciences at the University of La Verne.
Her scholarship is in the area of poverty and aging and health disparities, and she shares a deep commitment to community engagement.
Mathews is a graduate of nearby Ganesha High School in Pomona. She received a Bachelor of Arts in Anthropology from Pomona College and went on to earn her Master of Arts in Medical Anthropology and PhD in Gerontology from the University of Kentucky in Lexington.
Mathews came to La Verne from Savannah State University in Georgia, where she was dean of the College of Liberal Arts and Social Sciences. Prior to that and since 2005, she was a professor at Winston-Salem University in North Carolina, where she also served in administrative roles, including program and department chair, director of the honors program, a dean's fellow, and interim dean of the College of Arts, Sciences, Business, and Education.