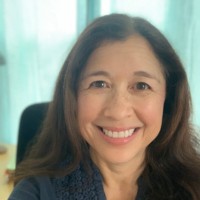 Dr. Cathy Irwin
Main: (909) 448-4712
La Verne / Miller Hall 209
Catherine Irwin, Ph.D. (she/her) is a tenured, full professor of English and the program coordinator for the Gender and Sexuality Studies minor at the University of La Verne. A professor at La Verne since 2006, she has taught courses in first-year writing, creative non-fiction, literary magazine, literary criticism, ethnic women's literature, queer literature, film and short story, mythology, as well as modern and contemporary poetry.
Her graduate work on the intersections between contemporary American poetry and theatrical performance has led her to write on dramatic monologues, performance art, and oral histories of historically marginalized peoples. Her current research focuses on contemporary American poetry, 1970s liberation movements, and the intersections of race, ethnicity, gender and queer studies. Her publications include Twice Orphaned: Voices from the Children's Village of Manzanar, poetry in Asian American anthologies, as well as articles and reviews featured in Women's Studies: An Interdisciplinary Journal, Contemporary Women's Writing, Pacific Coast Philology, Asian American Literature: Discourses and Pedagogies, and the Journal of Literary and Cultural Disability. She has presented her research in both Europe and the United States.
Prior to teaching at La Verne, she taught at Scripps College, Loyola Marymount University, California State University, Fullerton, Pasadena City College, and the University of Southern California. Born and raised in Los Angeles by her Filipino immigrant parents, Dr. Irwin received her B.A. from the University of California at Berkeley and her M.A./Ph.D. from the University of Southern California.
Dr. Irwin's scholarly work can be found at Google Scholar.
Educational Background
B.A., Cal Berkeley
M.A., University of Southern California
Ph.D., University of Southern California
---
To explore the scholarship and creative works of University of La Verne faculty, please visit the Research Works profiles hosted by Wilson Library.