Student Outreach and Support, The Randall Lewis Center for Well-Being & Research, and The Office of Religious and Spiritual Life have complied resources to assist the Leo Community during this trying time. The university expressly disclaims any and all responsibility for any problems that may arise with regard to utilizing these services.
If you are aware of resources that are not listed below, please email acamacho@laverne.edu to have them added to the list.
Mental Well-Being Resources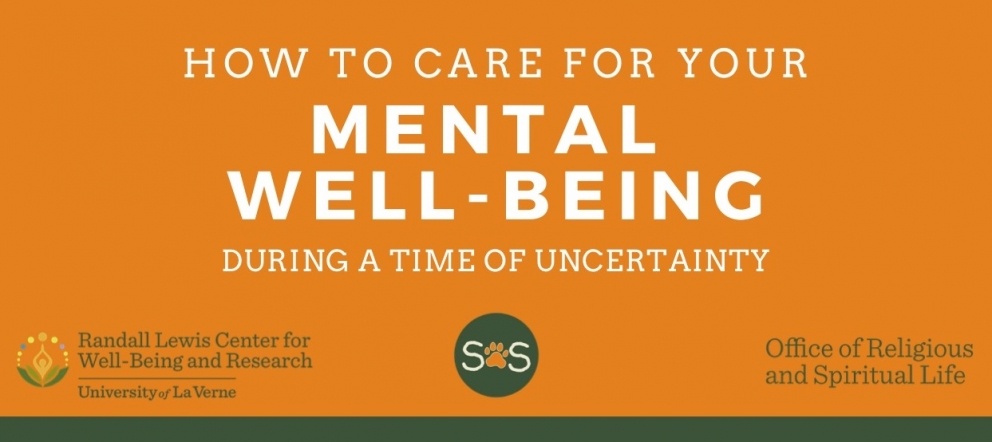 National Domestic Violence Hotline
If you are in an unsafe situation, call for help using the National Domestic Violence Hotline, open 24 hours a day, 7 days a week, 365 days of the year at 1 (800) 799-7233. If you are unable to speak safely, you can visit their webpage here or text LOVEIS to 22522. You are not alone.
Sojourn Domestic Violence Services
A shelter on the Westside of LA. While support groups are not available at this time, their hotline is always open for safety planning and peer counseling. They are accepting clients into their shelters. Their website can be accessed here.
24/7 Hotline number: (310) 264-6644
CalHOPE Warm Line
Feeling frustrated? Stressed? Worried because of COVID-19. Then call to talk with people like yourself and get emotional support and coping tricks. California Hope can connect you with resources to help during these uncertain times. Call 833-317-4673.
TED Talks
TED Talks cover an array of topics in a way that is motivating and captivating. Below, you will find several links to learn more about the importance of tending to your mental health from experts in this area. 
Helpful and Informative Articles
"Anxiety is Also Contagious. Here's How to Calm Down"
In this article, Mindfulness Magazine shares insight from a psychiatrist and mindfulness expert about how to cope with anxiety during "interesting times" and stay calm.
"Coronavirus: How to Protect your Mental Health"
This BBC News article provides tangible tips to provide your mental health during a time of uncertainty and constant news coverage about the pandemic.
"How to Prevent Loneliness in a Time of Social Distancing"
With increasing numbers of people isolated because of quarantine and social distancing, loneliness is becoming an issue of great concern. This article discusses this in greater detail and offers practical steps to address this
"Managing Anxiety During COVID-19"
A pandemic is fertile ground for those who suffer from anxiety – here's a short guide on how to manage it.
CDC Taking Care of Your Emotional Health
CDC webpage with various resources regarding coping, including links to various websites and apps for virtual AA meetings to respond to suspensions in in-person meetings.
Mental Health Apps
During a time of social distancing, technology can be used to not only connect with others, but assist in our mental health journey. Below, you will find several links to learn about mental health apps. 
Mental Health Resources for People of Color
Published by Online MSW Programs, this guide has complied informational resources for culturally diverse populations. Readers can find mental health resources, podcasts, and advocacy organization to help address behavioral and emotional health needs, treatment, and how to find care.
Lifeline Chat
Lifeline Chat is a service of the National Suicide Prevention Lifeline, connecting individuals with counselors for emotional support and other services via web chat. All chat centers in the Lifeline network are accredited by CONTACT USA. Lifeline Chat is available 24/7 across the U.S.
211
211 is a vital service that connects millions of people to help every year. To get expert, caring help, simply call 211 or search by zipcode on their website for local information about essential needs, crisis and emergency, COVID-19, service providers and disaster assistance. 
Virtual Relaxation Room
The Virtual Relaxation Room is designed to be an interactive experience in which you learn to manage your worry or anxious feelings at your convenience. Their goal is not to eliminate all stress but to reduce it. A modest amount of what they call good stress can enhance your performance in many endeavors. Visit the Virtual Relaxation Room here.
Rehab Spot
In a sea of information, it can be hard to distinguish the facts. Our team is working to give you relevant and accurate information on COVID-19 and its ties to addiction and recovery. There have been reports of increased relapse rates due to the loneliness and anxiety that social isolation causes some people to feel. However, there are a variety of treatment options that are available during the COVID-19 pandemic.  Visist the Rehab Spot page for more information here.
Virtual Narcotics Anonymous Support Group
This webpage is a group of Narcotics Anonymous with daily online meetings where those seeking recovery can chat 24/7 for support and fellowship.
Alcohol Help
Rates of alcohol misuse are rising across the country as people spend more time alone and turn to substances in order to cope. Prevention strategies are vital now more than ever. Alcohol Help provides extensive information regarding alcohol use disorders and gives people with a chemical dependency the tools to reach sobriety. The goal of the site is to prevent alcohol misuse and create a healthier and happier community free from addiction.
Free Access to Slack for ALL Students
Knowing how important the simple act of connection and community is during this COVID-19 crisis, Moreno Valley College has partnered with the period brand just. to provide free access for ALL students to join the Active Minds Slack Network! Thanks to just., students across the nation will be able to join their National Chapter Network leaders and national office staff in sharing successful strategies they're implementing to take care of themselves, to promote mental health to their now-remote campus communities, and to brainstorm new ideas on how to feel most comfortable in your new normal. Throughout the partnership with just., their goal is to reverse stigma around very normal aspects of health – like periods and mental health. Students interested in helping Active Minds to change the conversation about mental health can visit this website to gain free access to the platform, courtesy of just.
Free Virtual Recovery Meetings
During this pandemic, many in-person recovery meetings have been canceled or been made difficult to attend due to current safety measures. This resource offers online recovery support groups which will be available five times daily at 9AM, 12PM, 3PM, 6PM, and 9PM EST, along with one daily family and loved one recovery support meeting at 8PM EST. All recovery meetings are non-denominational, agnostic to any specific recovery pathway, and are open to anyone.
COVID 19 Los Angeles Community Resources
This extensive Google Doc includes numerous resources throughout Los Angeles County, including mental health resources. These specific resources can be found in the following sections: Undocumented Community, Trans/Queer Relief, and Mental Health
Tri-City Community Navigator Program
Tri-City's Community Navigator Program consists of highly trained individuals who specialize in linkage and referral to local resources. The purpose is to help people gain access to the services and support they need, both formal and informal. For services, contact Isela Moreno, MHSA Program Supervisor at (888) 436-3246 or imoreno@tricitymhs.org
Tri-City Wellness Center 
The Tri-City Wellness Center is a community hub for activities that promote recovery, resiliency and wellness for people confronting mental health challenges. All services at the Wellness Center are free and open to people of all ages. These services include but are not limited to: peer support groups, peer and family support, employment and vocational support, education resources and workshops, computer lab, recreational/social/culturally competent activities, assessment, linkage and referral.
The Steve Fund
Are you a young person of color? Feeling down, stressed or overwhelmed? Text STEVE to 741741 and a live, trained Crisis Counselor will respond. You can also visit the Steve Fund website here.
Reducing Stigma
An educative resource to promote social support and check facts.
Active Minds
Active Minds is the nation's premier nonprofit organization supporting mental health awareness and education for students. Recognizing the challenges faced by students everywhere during these unique circumstances, Active Minds has created a special online hub for students to support their mental health during COVID-19.
CredibleMind
CredibleMind provides medical information, practical tips, and mental health and wellbeing support in their COVID-10 Resource Center.
Ca.gov Resources for Emotional Support, Well-being, & Managing Stress for Health
While we take action to lessen the immediate impacts of COVID-19 on our communities and our health care systems, it is also important to minimize the secondary health effects of this pandemic. Widespread stress and anxiety regarding COVID-19, compounded by the economic distress due to lost wages, employment and financial assets; mass school closures; and necessary physical distancing measures can result in an increase of stress-related health conditions. You can also find more helpful stress-managing tips here.