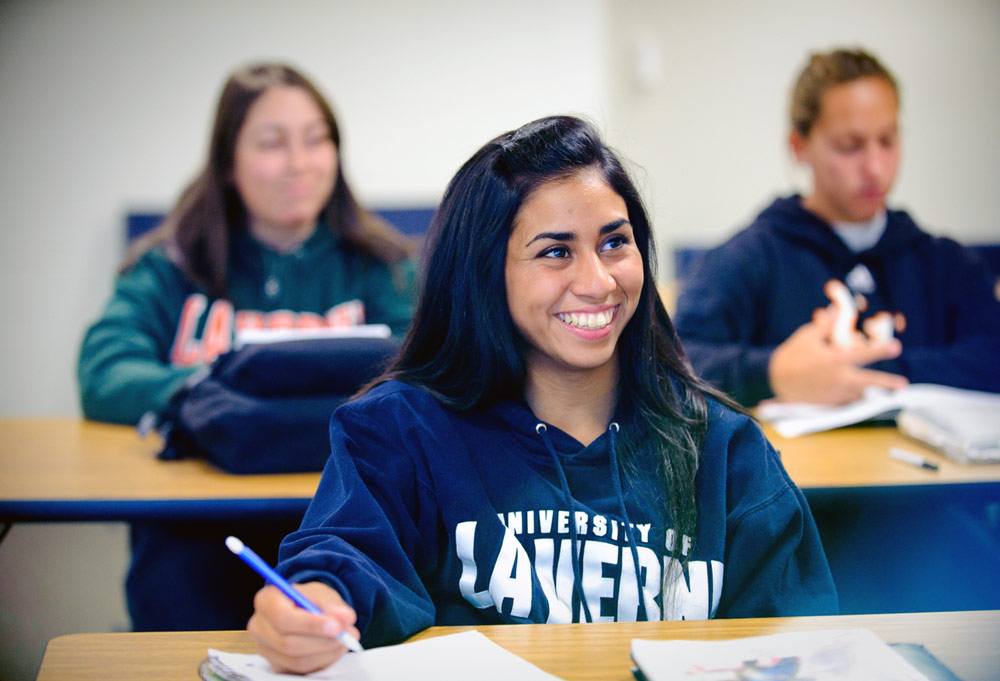 The La Verne Experience builds connections to maximize a student's discovery and personal growth. Real learning cannot happen in a vacuum. Connecting oneself and one's new ideas with others across classrooms, across the curricula, and into the community build confidence, deepens experience, and maximizes success.
As part of the La Verne Experience, students will complete a 1-unit General Education Capstone course. Faculty across colleges and departments have created these courses to focus on interdisciplinary topics and career ready skills including written communication, critical thinking, and intercultural competence. Therefore, students from a variety of majors and backgrounds research and share their knowledge, skills and interests developed up to this point. Further, while pooling their resources, students will collaborate on an interdisciplinary topic and reflect on the topic through multiple cultural perspectives.
There are several ways students can satisfy the one-unit LVE 400 Senior Capstone course:
some majors have embedded the unit into an existing course (i.e. HONR 499, EDUC 452, PLSC 499); or
some GE courses embedded the unit into an LVE 400 (see list below for themes).
Please look for the GE attribute LVUR (University Reflection) on the La Verne Portal when you are looking for courses to add.
Faculty, here are three forms for you to download:
LVE 400 course examples
Difference as Social Construct
Dr. Kim Mitchell
Students will examine how difference is socially constructed and perpetuated through language and social institutions, such as education and media. Students will explore how individuals might avoid taking the paths of least resistance and play a transformative role in creating a world that works for everyone.
Nature Deficit-Disorder
Dr. Cindy Giaimo-Ballard
This course blends research from the field of education, environmental education, and child and human development and intercultural competence. This course serves as a guide for infusing and integrating a nature-based program, striking a balance between an emphasis on culture, child development, human development and environmental sustainability. Today, children's direct experiences with nature have decreased dramatically, and children are growing up increasingly isolated from the natural environment and increasingly dependent on technology and time spent indoors.  This is especially true for young children in low socio-economic communities and marginalized youth.

Many key environmental scholars argue that this trend is associated with negative outcomes for children's physical, cognitive, and emotional well-being. Richard Louv, (2008) renowned author and recipient of the Audubon Medal uses the metaphor to identify this crisis as "Nature-Deficit Disorder (NDD)."

Students will address societal issues related to NDD and apply what they learn to real-world situations in meaningful ways.  Students will approach these issues through multiple perspectives and across disciplines.

For example, how can nature elevate learning and healing in schools, workplace and the community? This course is valuable to aspiring educators, mental health professionals, city planners, health care practitioners, business professionals, physical therapists and more.

 "The future will belong to the nature-smart—those individuals, families, businesses, and political leaders who develop a deeper understanding of the transformative power of the natural world and who balance the virtual with the real. The more high-tech we become, the more nature we need."

— Richard Louv

Class, Race, and Gender
Dr. Gerard Lavatori
In this capstone GE course students will examine cultural constructs such concepts as gender, race, and class and how these phenomena interact to shape identities and social realities.

In order to be able to analyze complex problems, students will be exposed to critical theories of gender, class, and race, as well as articles detailing specific instances of how multiple systems of oppression operate in individuals and groups.

Theoreticians have revealed how concepts even as basic as gender are shaped by the cultures in which we exist. Feminist Simone Beauvoir even questioned the biological basis of gender with her statement that "One is not born a woman; one becomes one." In "Is capitalism gendered and racialized," author Joan Acker reveals how gender and race relate to the economic system explaining that "Capitalism developed in Britain and then in Europe and the United States in societies that were already dominated by white men and already contained a gender-based division of labor." Similarly, author Gregory Mantsios reveals the veiled operations of class in society. "Class distinctions operate in virtually every aspect of our lives, determining the nature of our work, the quality of our schooling, and the health and safety of our loved ones. Yet remarkably, we, as a nation, retain illusions about living in an egalitarian society."

Our ideas about ourselves and our society are embedded in culture.  In today's globalized world, knowledge of the basis of our cultures and those of others are essential. U.S. senator, Paul Simon has said: "In order to compete in the global community, we must be able to communicate effectively and to appreciate, understand, and be able to work in the frameworks of other cultures."

In this course, students will be provided readings and instructed about elements of intercultural competence and communication as well as equipped with theoretical concepts about race, gender, and class in order to analyze aspects of societies they have chosen to investigate in a research project.

Throughout the class, students will participate in intercultural research, analyses, and activities as they prepare a research and reflection project which illustrate two cultures' values, beliefs, or traditions related to gender, sexual orientation, race, ethnicity, caste, or socioeconomic class. Students will share their findings in oral presentations at the end of the semester.

Students of any major will be able to apply theories of race, class, and gender to analyze the role of culture in their chosen discipline. Sample questions students may want to answer in their projects include: How does gender or sexual orientation affect the funding or development of scientific research projects in two cultures you will study? What are the roles of gender or economic class on health care for individuals in two cultures you will study? How does race or ethnicity play a role in the arts, media, sports, or the penal systems of the cultures studied?  What ideas about gender roles affect the family structure, the work world, or the food industries of those nations?

Language & Meaning Making
Dr. Jose Perez-Gonzalez
"Language is the most human of all human attributes. More than just a means of communication it is our vehicle of thought" (Beedham 25).

This class will focus on the ways language imposes itself, directly or indirectly, passively or actively, in every sphere of human activity/disciplines. Another way of phrasing it is how does language (from phonology to syntax) shapes and reshapes one's thoughts and perceptions (meaning bearing and distinguishing)?

My goal is that students will find inter-connections between the ongoing evolution and acquisition of language among their disciplines and the constitution of their social factors through the process.