Professor Honored for Leadership in Public Administration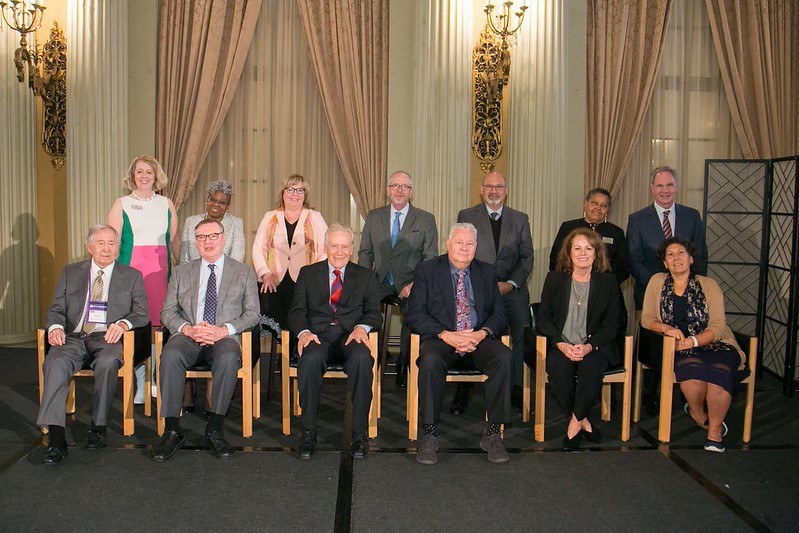 Photo caption: Past presidents of NASPAA come together during the NASPAA Annual Conference held in Los Angeles.
Jack Meek, professor of public administration and director of the Center for Research at the University of La Verne, was honored by members of the Network of Schools of Public Policy, Affairs, and Administration (NASPAA), on Oct. 17 during NASPAA's 50th Anniversary Celebration for his leadership and commitment as the 2017-18 president.
NASPAA helps to set global standard in public affairs education through its accreditation of graduate programs in public administration, public policy, public affairs, nonprofit, and related fields.
"I'm honored to represent the University of La Verne in this organization and as the first faculty member to serve on the board," Meek said.
While serving on the board for three years, Meek collaborated with elected members who shared their knowledge and experience on political issues, propelled initiatives forward, and organized conferences and student competitions around sustainability, immigration, or new policies.
The University of La Verne master's in public administration first received accreditation from NASPAA in 2000. Every seven years, the university applies for reaccreditation, and it is currently in the process of submitting a self-study for 2021.
To learn more about the University of La Verne's Public Administration program, visit business.laverne.edu/mpa.
---