Public Administration Student Earns Third Place in International NASPAA Competition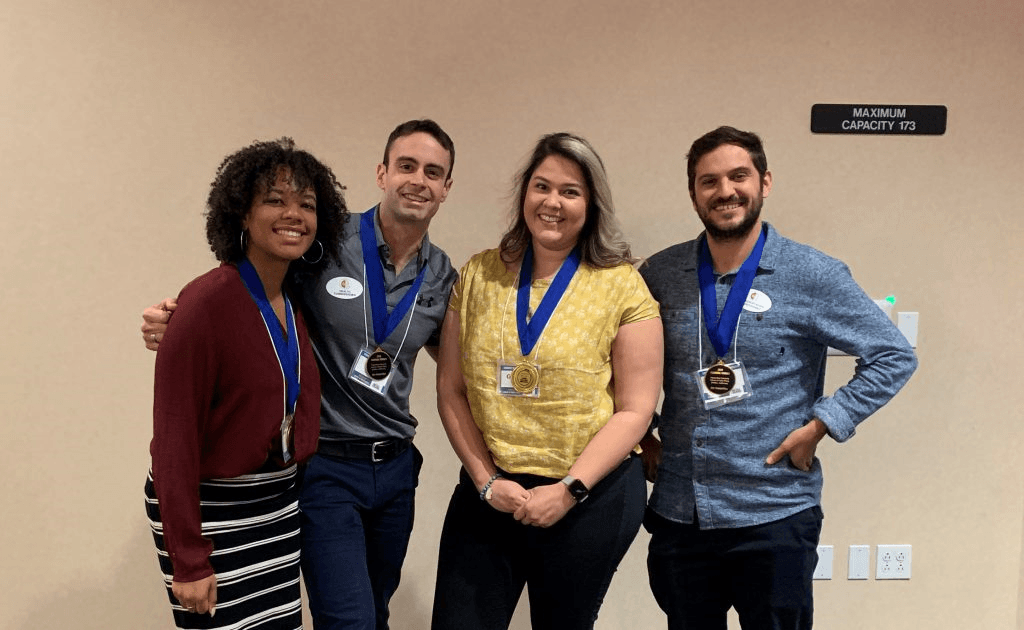 A graduate student in the University of La Verne master's in public administration program took third place in the international competition of the Network of Schools of Public Policy, Affairs and Administration (NASPAA), becoming the first in the program to place at this level in the annual contest.
Georgina Perez and her teammates, who represent four different west coast graduate school programs, advanced to the NASPAA Global Super Round after taking first place in the NASPAA-Batten Student Simulation Competition regional contest held at Pepperdine University in March.
The NASPAA-Batten Student Simulation Competition regionals brings together graduate students in public policy and related fields for a day-long contest in which they must address a pressing problem affecting a simulated city.
This year, participants used their skills to implement policies leading to establishing a sustainable public transit system.
In the competition, students play the roles of municipal leaders in a computer simulation developed using real world data. Teams are judged on their performance in the simulation along with a policy memo they draft and a presentation they deliver on the policies they implemented. Everything must be done within strict time limits.
About 350 students from 114 universities representing 46 countries participated in this year's regional competitions, which were held in seven locations around the world.
The winner of each regional advanced to the global round in which a panel of prominent judges, or super judges, reviewed the performance of the students in the simulation, the policy papers, and the presentations.
In other competitive activities participants know the members of their team, each person's strengths, and often practice for weeks in anticipation of a big event. None of that can be done for the simulation competition, Perez said.
Teams are created at random with members from different colleges and universities, so members must be able to collaborate with people they've just met. They must process and evaluate information quickly and use it to make well thought out decisions all while keeping in mind budgets and the impacts decisions will have on communities. Teams are judged as a group, not individually.
"I don't know that you really can prepare other than to be open minded," Perez said.
Students rely on what they've learned in their courses and the background information organizers provided about two days before the event, Perez said, adding she studied the materials but had many unanswered questions.
Team members met the morning of the event and quickly began to collaborate, Perez said.
"You kind of figure out your strengths and weaknesses in one hour," Perez said.
Teams had to assess community needs and find the best way to meet those without negatively impacting neighborhoods.
The competition consists of more than half a dozen rounds and each represents about two years in the life of a project that in real life would take a decade or more to carry out. Students can see how their decisions can have a positive effect on the lives of the simulated residents.
"It's pretty neat to see how your decisions impact the median income" of residents, she said. "You are kind of trying to come together to improve your community."
Perez said part of her success is the result of the courses and interaction with the faculty of the Master of Public Administration program.
"They empower you and uplift you," Perez said. "They treat you as if you are one of them at their level."
La Verne's is "a highly personalized program where everyone has the opportunity to participate," said Marcia Godwin, MPA director and professor of public administration.
Students get an in depth understanding of the public administration field from faculty, professionals, and alumni.
Godwin said the simulations are also a valuable teaching resources.
"The simulations are very real world," Godwin said. "These topics really resonate with our students."
Students in the University of La Verne's Master of Public Administration program have done particularly well in the NASPAA competition in recent years.
Last year Tyler Bennett, '19, and his teammates from programs in the Northwest took first place at the regionals, but what Perez did this year is "quite an accomplishment," said Jack Meek, professor of public administration and director of the Center for Research at the University of La Verne.
"It means La Verne is attracting top-level talent," said Meek, who served as a judge this year at the regional level. "It means that our students, like other students from larger programs, are very strong and capable."
---