University of La Verne Honors Leo Legend Ben Hines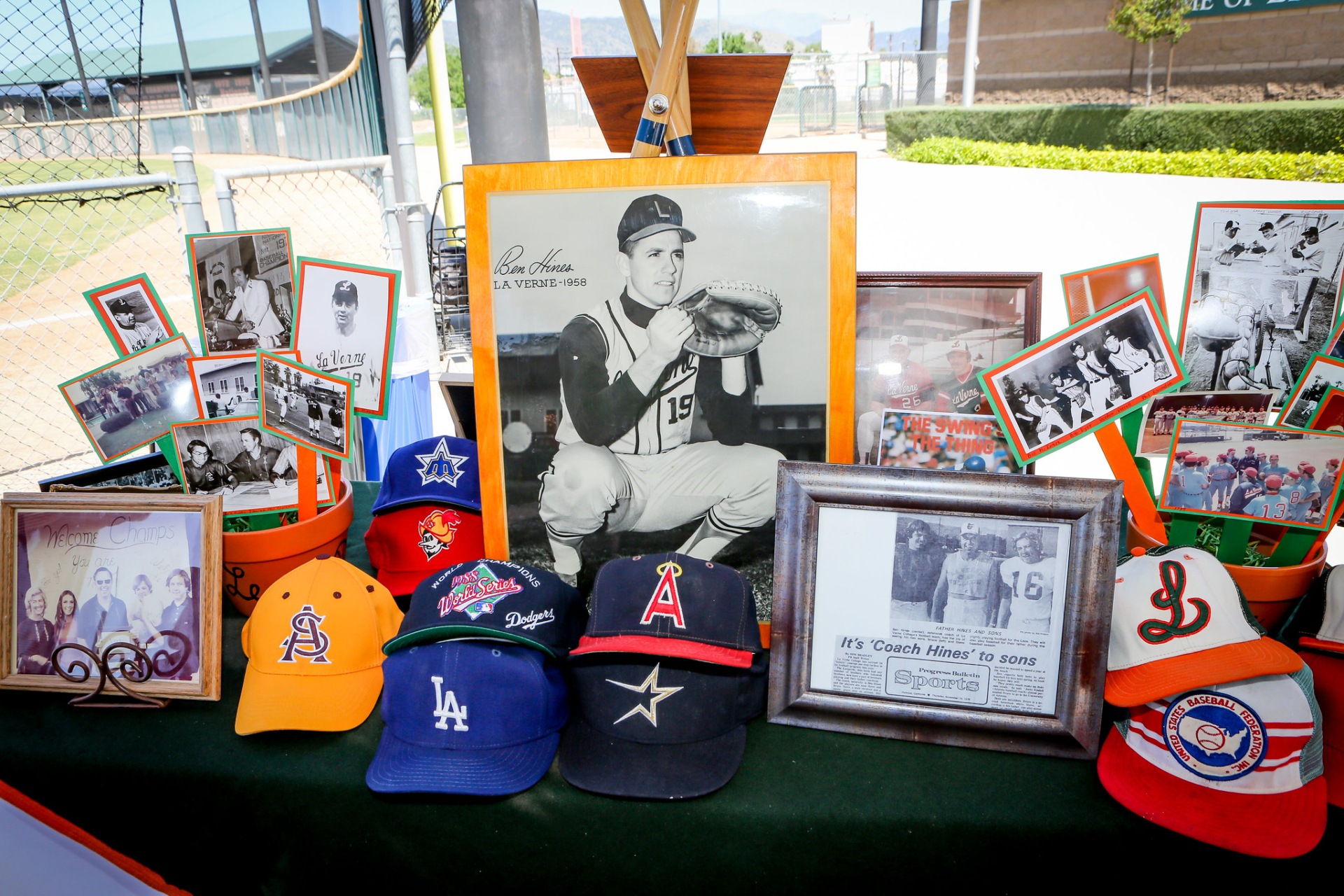 Beloved and highly influential Leopard baseball coach Ben Hines '58, who guided our team to its first-ever national championships back in the 1970s, sadly passed away in 2021, while the pandemic was still raging.
On April 9, the University of La Verne's alumni community finally had an opportunity to publicly honor this Leo legend at a special event featuring a double-header game against California Lutheran University. Hundreds of people gathered on Ben Hines Field at Campus West to celebrate the field's namesake while enjoying complimentary picnic lunches provided by the alumni engagement team.
Happily, the Leopards won the first game 8-0. Then, during the break, a special program honored Hines' achievements and legacy. Hines' wife Wanda and daughter Kristi were on hand to share some of their favorite university memories, including Hines' role in helping to build the first baseball field on campus.
They brought a collection of memorabilia for attendees to look at and, in keeping with Hines' tradition of providing snacks to his players, they also brought oranges, Snickers bars, and Gatorade for everyone to enjoy. See photos from the day here.
Hines is credited with transforming the University of La Verne into a national sports powerhouse. An avid athlete himself while attending La Verne College in the 1950s, Hines began coaching and teaching at the university in 1960. Over the next two decades, his teams would win 500 games and eight SCIAC (Southern California Intercollegiate Athletic Conference) titles. They also advanced to the National Association of Intercollegiate Athletics (NAIA) World Series five times. In 1980, Hines moved on to a long list of other great accomplishments, including coaching the Dodgers when they won the World Series in 1988. He was inducted into the American Baseball Coaches Association (ABCA) Hall of Fame, the NAIA Hall of Fame, and the Bob Elias Kern County Sports Hall of Fame.
The imprint Hines left at the University of La Verne was everlasting. The Leopards continued to win numerous SCIAC titles, and 63 of the students Hines coached went on to play professional baseball. He may be gone now, but Ben Hines will never be forgotten. Go Leos!
Gallery of Images
---