Justice Center Receives City Recognition for Youth Entrepreneurship Community Program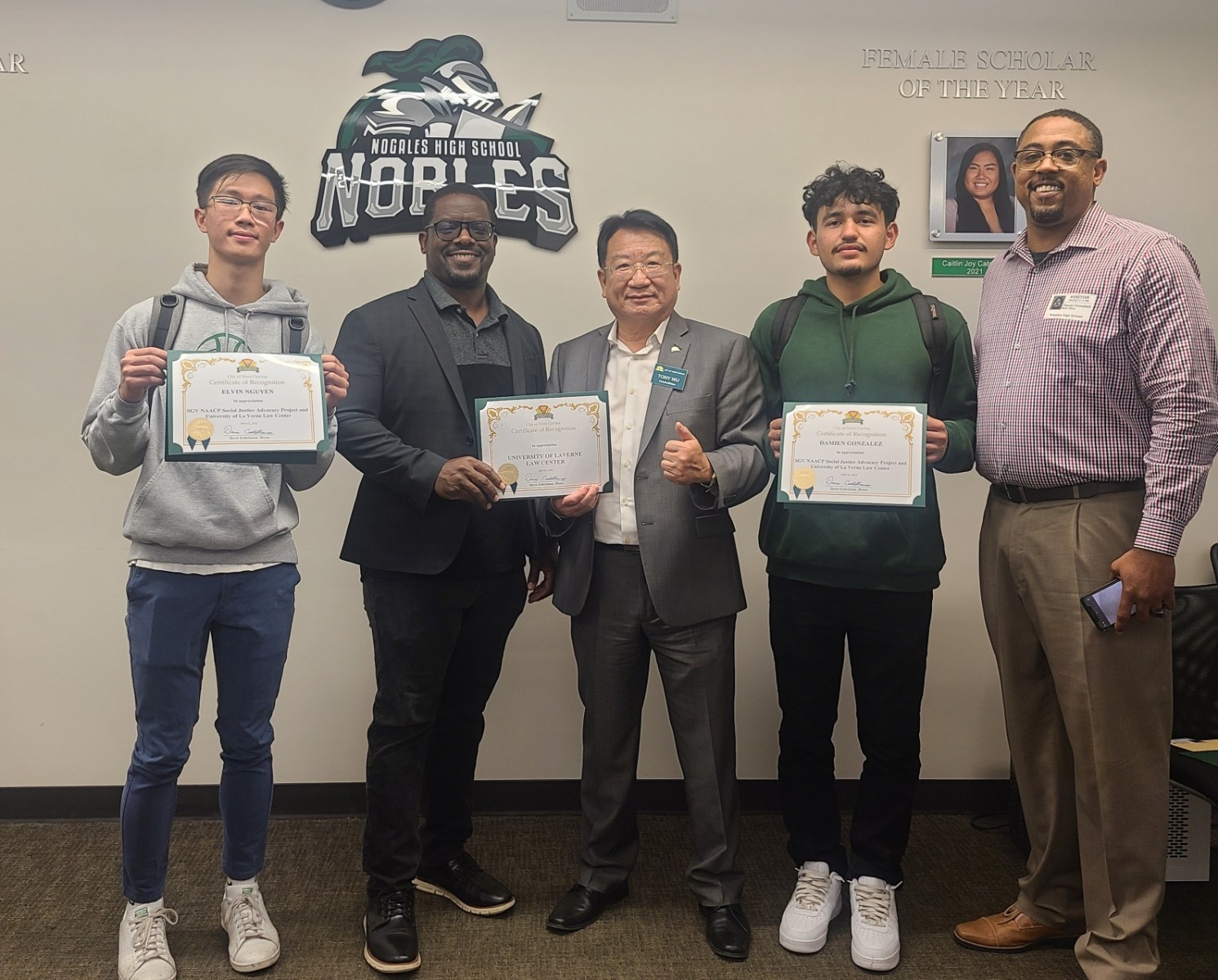 The city of West Covina has recognized the University of La Verne Justice Center for providing community-based curriculum for youth entrepreneurship.
A cohort of 15 students from Nogales High School participated in the 10-session youth entrepreneurship program in May, which taught them how to turn their business dreams into a legally-compliant, fully operational business reality. Classes were led by San Gabriel Valley NAACP President TJ Campbell, with the support of Assistant Professor of Legal Studies Thomas Allison and students from the Justice Center.
West Covina Councilman Tony Wu presented certificates of appreciation to Allison, Campbell, and Nogales students on May 25.
Allison founded the Justice Center within the College of Arts and Sciences legal studies department in 2020 to provide interdisciplinary educational programming aimed to "bridge the gap between education and experience." The center offers three public education programs through partnerships with community-based organizations. Topics include business, criminal justice, and professional and personal development. The Justice Center also provides legal clinics, regional diversity programs, and other services. University of La Verne students were responsible for developing and editing the program curriculum.
"I think generally many of the students at La Verne like to give back," Allison said. "They especially like to give back through the educational process."
The center's youth programming is now on its second cycle of students. Last summer, the inaugural cohort was led by a coalition of community leaders, including University of La Verne Trustee Emmett Terrell. This spring, the Justice Center also collaborated with the San Bernardino County Superintendent of Education's office to launch a Youth Justice curriculum for the most under-served schools. The program educated youth on how to become effective community leaders for justice and advocacy.
Allison envisions expanding the Justice Center to include other interdisciplinary partners from each university department so they might "engage in an interdisciplinary approach towards community empowerment."
Any student can apply to participate in the Justice Center. To apply, contact Allison at tallison@laverne.edu.
---