President Mahdavi Is Present in the Space Between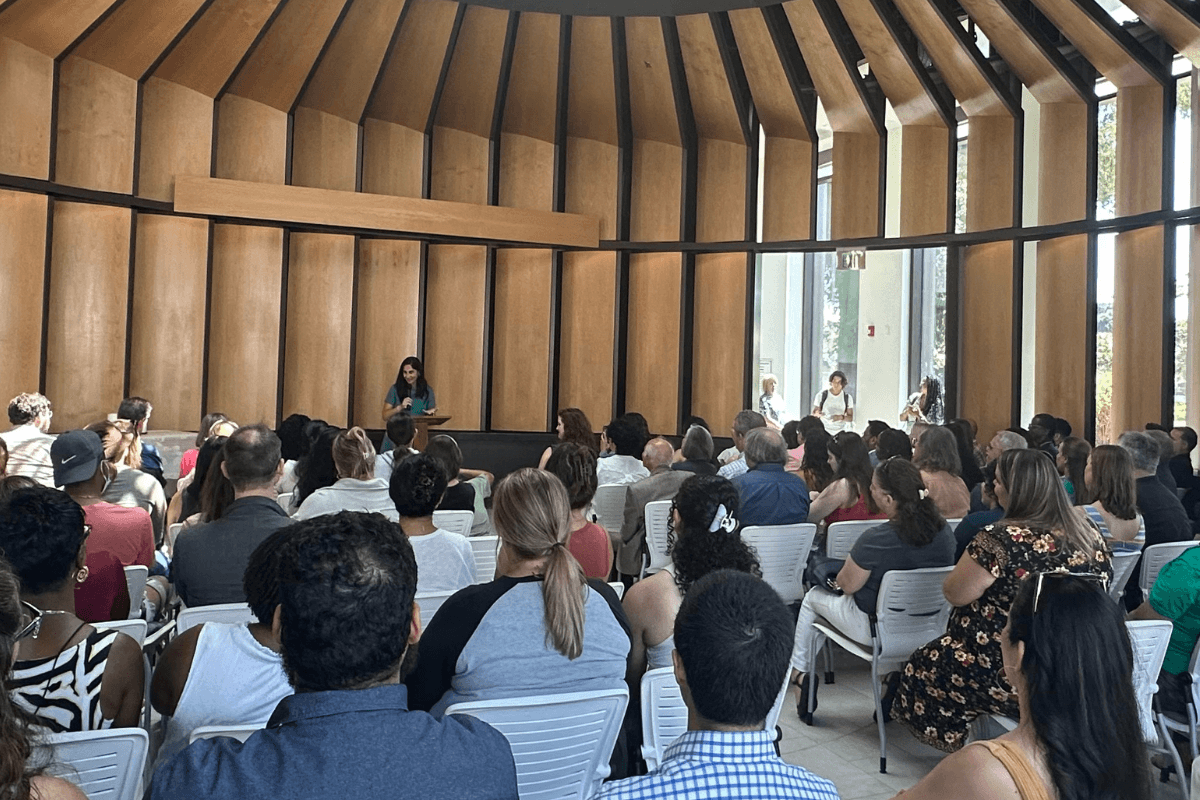 Amidst the hum of guests that filled the Sacred Space in the Ludwick Center, University of La Verne President Pardis Mahdavi stepped up to the podium. She was ready to unveil the details of her personal and professional journey during the inaugural session of the "What Matters to Me and Why?" community discussion series.   
This monthly event, in collaboration between the Office of Religious and Spiritual Life and the Center for Multicultural Services, held a space for new and returning students, faculty, staff, and friends of the university to glean insights from the new University of La Verne leader.  
With grace and poise, mixed with a little humor and humility, President Mahdavi shared stories from her personal journey, narratively diving deep into her personal and professional commitments, her Iranian-American identity, motivations, and experiences that helped shape who she is today.   
Her opening words on what matters to her most set the tone: "Being present in the space between," she said. She then shared her love of words, grammar, and orthography. She examined each word's significance to her, then shared other passages that speak most to her and help ground her:  
"Be still, and know that I am God," she said from The Bible in Psalm 46:10. She reinforced her love for this quote by showed her bracelet she was wearing, which had the verse engraved on her wrist.  
Also an admirer of the great poet Rumi, she shared a second musing:  
"Doing as others told me, I was blind. Coming when others called me, I was lost. Then I left everyone, myself as well. Then I found everyone. Myself as well," she said.  
Her last quote that matters most to her is from the writer and activist Cherrie Moraga's book This Bridge Called my Back: Writing by a Radical Women of Color, "I am a woman with a foot in both worlds; and I refuse the split. I feel the necessity for dialogue. Sometimes I feel it urgently."  
It was President Mahdavi's narrative approach to her discussion that truly captivated the audience. President Mahdavi detailed beautiful and intense moments from her life, sharing tales of her time as a provost in Montana while raising her daughter and "navigating the space between" as she grappled her many identities she holds dear to herself. Even her faithful companion, Caspian the horse, played a pivotal role in her growth, teaching her valuable lessons about self-identity, ego, the pressures of life, and coming into alignment after a terrifying fall. This fall resulted in a concussion, three broken ribs, and a slipped disc, when she was distracted in her own thoughts. But the fall taught her more about her own life.  
"I couldn't enjoy the show," she shared with the audience. She admitted to being too consumed by the tireless demands of daily life to savor the moments that truly mattered. "I wasn't present…and that fall was a gift that reminded me what can happen when I'm not present, when I am out of alignment."  
She continued by discussing the imposter syndrome that had once attacked her psyche. She doubted her previous role as provost and the appropriateness of her identity loomed large until she realized her truth: "I am enough, I can be both, I can be Provost by day and cowgirl by night," she said proudly. "I am a bridge person who lives in the space between."  
President Mahdavi found enlightenment in stillness guided by her spirituality. "To be still is to feel God," she said.  
After President Mahdavi ended her speech, Jordan Gutierrez '24 asked a question from the audience with her clinical psychology cohort. She asked about motherhood and its place within President Mahdavi's values. In response, she stressed the significance of listening and collaboration. The task of helping others, including children, "takes a village" and is achieved best alongside one's community.  
In her closing words, President Mahdavi left a lasting impression. She spoke of "sitting in the fire with her demons" as a means to continually assessing her alignment with her purpose, unapologetically.  
"This is a space for you; you belong here in the in-between," she said, sharing her light, as she prepares to continue her leadership and guidance for the University of La Verne.  
---