Dedicated Alumnus Wins Broadcast Emmy Award
University of La Verne alumnus Joseph Orozco '17 added a significant milestone in his broadcasting career, winning an Emmy Award with his team during the 75th LA Area Emmy's for Outstanding Sports Series/Programming (Live Broadcast). This award will not be the last for Orozco as he is just at the beginning of a fruitful career.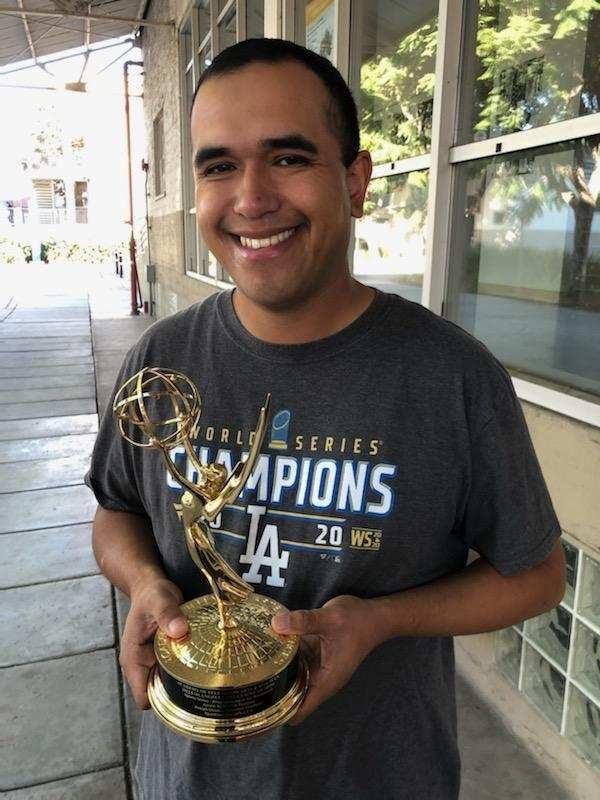 Orozco, who commutes 67 miles one way alone to Los Angeles for work, is dedicated — and that is an understatement.  As a sports content associate, he works hard with a team to deliver top-notch sports programming at Access SportsNet Dodgers under Spectrum SportsNet LA, which earned them the award for the season's pre-and post- game sports programming. This is the official channel for the Dodgers, which broadcasts over 100 games a year on the network. The recognition was a testament to commitment and expertise in providing insightful analysis and engaging content for Dodgers fans, like himself.
"It's a good team collaborative effort every day. We try to make the best programming possible to give quick updates on injuries, starters…we do a good job at presenting the information in an entertaining way," Orozco said.
He also shared how the workers behind the scenes help make the series so strong, and credited his co-workers as "authentic who tell it like it is."
Orozco grew up in northeast Los Angeles in a community where crime and gang-related activity prevailed. Despite challenges, he held onto a dream of working in the broadcasting industry. After graduating from high school, he enrolled at the University of La Verne, where he pursued communications, got involved with campus clubs and organizations, and made himself well-rounded as a professional and as a person. His dedication and hard work paid off. After completing his studies, he landed a job at NFL Media, where he worked for four years. In 2022, he joined Spectrum.
Orozco returned to his alma mater with loyalty and pride to share his award with mentors and professors in the arts and communications building recently, describing the experience of receiving the award as surreal. He shared how attending the university had a profound impact on his professional development. Thanks to the diverse range of skills he acquired, he is now capable of writing, producing, shooting, and editing at any point during his workday. He also offered some words of encouragement to fellow students who aspire to pursue a career in broadcasting or television.
"Be open to anything. You never know where this industry can take you. Learn all the diverse skills you can so future employers can see that you're willing to do anything," Orozco said.
As an engaged and supportive alumnus, Orozco will return to campus to share his award experience with students during a future class for broadcasting majors. His visits help inspire the next generation of broadcasters and storytellers to stay dedicated and authentic to themselves.
---