Leo Hall 130
Hours
Hours
Mon – Fri:
7:00 am – 11:00 pm
    Weekends:
7:00 am – 5:00 pm
Location
Leo Hall is the white building on the corner of D Street and 2nd Street.. The computer lab is located on the first floor of Leo Hall.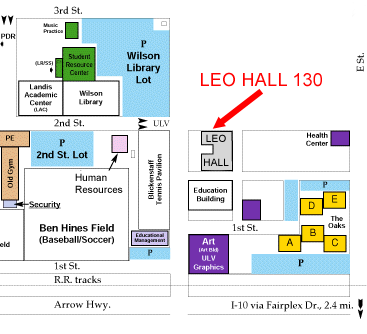 Software
Operating System: Windows 7 Enterprise X64
Adobe Acrobat Professional
Adobe Flash Player
ArcGIS 10.2
Derive 6
GISTcrime
Google Chrome
IBM SPSS Amos 24
IBM SPSS Statistics 24
Impact 3.0a
Internet Explorer
iTunes
Maple 17
Microsoft Office 2016
Microsoft Visio 2016
Microsoft Project 2016
Microsoft SQL server
Mozilla Firefox
R for Windows 3.3.0
RStudio Desktop
Starry Night Pro 6
Quick Time
VLC media player
Web Deployment Tool
WinZip 18
Windows Media Player
Lab Rules Click here to read the Lab Rules
Special Notes: To request software upgrades for this lab, please contact your Faculty Technology Committee Representative.NOTE: This lab is open to students only when classes are not in session.