Alumni, Hear Our Call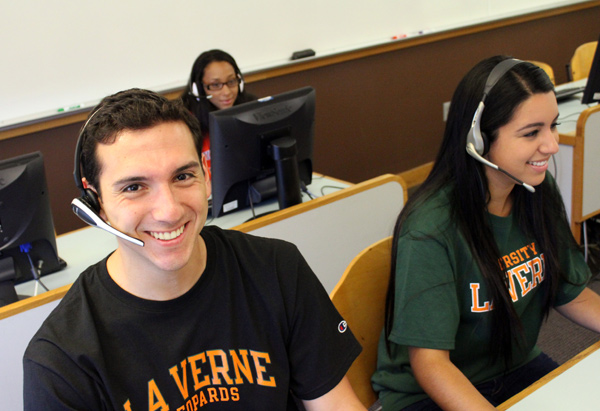 Each evening, a group of 12 students gather together in a moderate-sized classroom, turn on their computers and slip on a headset. After a pep talk from their program supervisor, they begin another shift of reaching out to alumni, parents and friends all over the nation –to reconnect, to inform and to ask for support for student scholarships.
Phonathon takes place each semester and provides an opportunity for current La Verne students to speak with alumni about the latest highlights around the institution. They are able to ask questions about favorite professors and classes, reminisce over memories, and update alumni records at the same time. Most importantly, they are looking for people willing to invest in today's students – most of whom are reliant on scholarships and financial aid to make it through their education.
"I am extremely grateful for the educational gift that has been awarded to me through La Verne," said freshman caller Jordan Lee. "I don't know where I'd be today without the University's generosity." La Verne's ability to provide student scholarships is made possible in part through donations from alumni. The phonathon program is one vehicle for raising these much needed funds.
"Phonathon raises integral funds for our institution and the aid we provide," said Grace Casian, Director of Leadership Annual Giving. "In addition, our students and alumni are afforded a wonderful opportunity to connect as people who are walking similar journeys.  Alums can hear about current student life and students gain great insight on La Verne's days gone by."
When your phone rings and a La Verne student is on the other line, take a moment to say hello and reconnect with your alma mater.
---