Sandy Portaro '97 Dances to Her Own Beat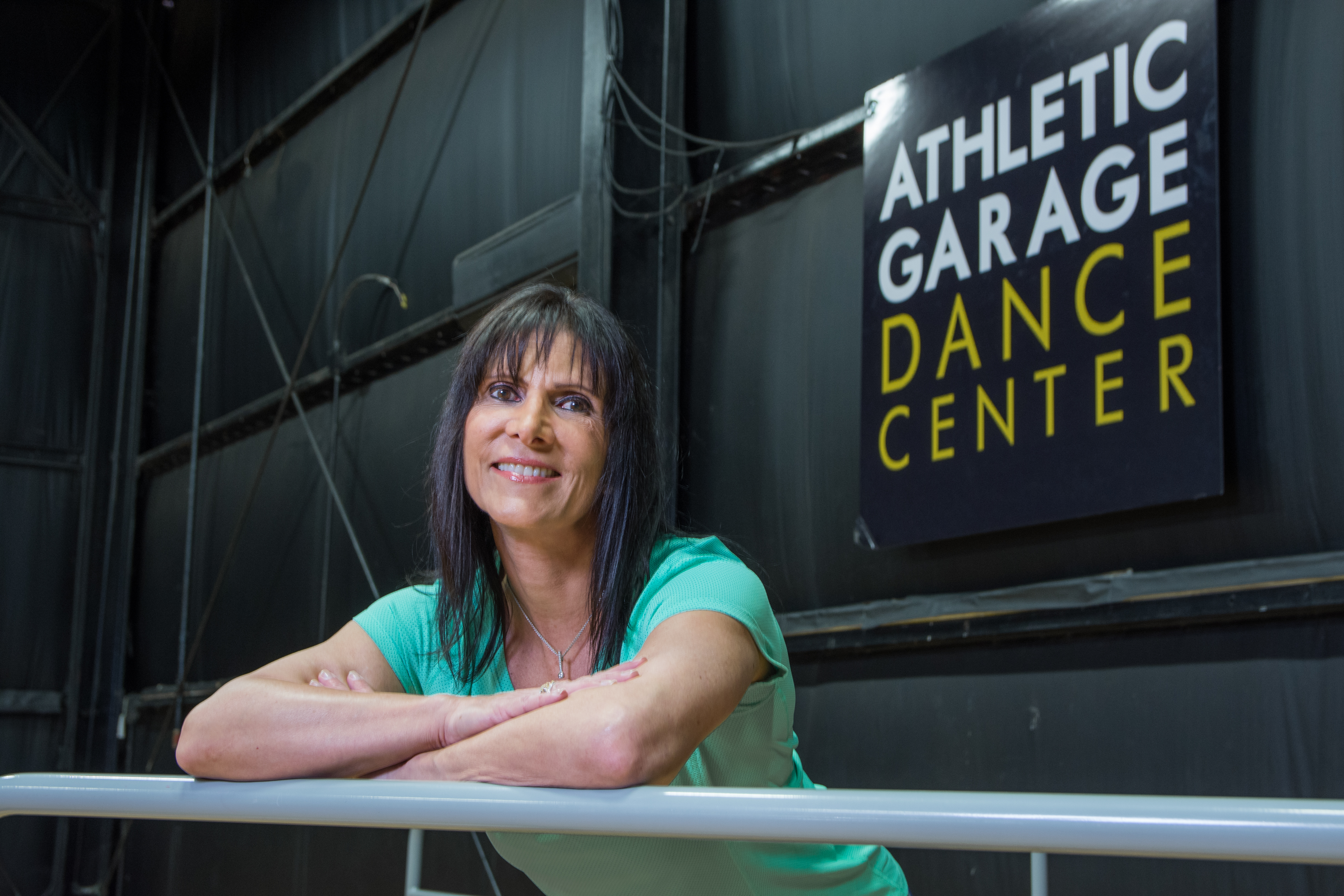 "I guess I'm a trendsetter. I want to dance to the beat of my own drummer."
And dance she has. If you want to know what boundless energy looks like, look no further than Sandy Portaro '97. If you can catch her sitting still.
She loves to quote her husband, Denis, who says "I'd rather burn out than rust."
But Portaro hasn't burned out yet, despite having successfully tackled several wildly different, very challenging careers while moving across the country, raising a daughter, returning to college at the University of La Verne as a working adult, and more recently plowing through both hip and knee surgeries.
Portaro is the founder and CEO of the Athletic Garage Dance Center in Pasadena, where she has created a community of dance and fitness enthusiasts from every age group and level of ability. Portaro's vision in building Athletic Garage has been to encourage dancers, whether professionals or newbies, to express themselves freely, build performance skills, and nurture and inspire one another. Athletic Garage offers hip hop, jazz, ballet, salsa, and other genres, produces dance shows, and welcomes young adults without financial means through multiple scholarships.
"We have a non-competitive, non-judgmental attitude," says Portaro.
She describes seeing adults who have never danced or exercised blossom with self-confidence.
"I can see people's lives change, and it makes me happy to make them happy."
Portaro's multiple careers have had that one thing in common – "seeing people's lives change." After high school in urban Pennsylvania, where she was an energetic cheerleader, she enrolled in a three-year nursing program in Philadelphia, received her diploma, and began working in intensive care.
"I had a need to help people," she says.
Although her nursing education and career were fulfilling, Portaro regretted not going to college and getting a traditional degree. She began expanding her skills after moving to Southern California, where she worked first in a hospital ICU and then as an RN in a doctor's office. Her natural inclination to improve systems and strengthen processes led to her work in the billing part of the practice, and she soon realized she had a knack for the business end of things.
For several more years, Portaro worked in a variety of capacities in the medical world.
She trained and certified aides for work in nursing homes and long term care facilities, which is how she met her pharmacist husband. She worked as a nurse consultant doing drug regimen review. Eventually, she and her husband launched their own institutional pharmacy, Clinical Care, serving skilled nursing facilities.
But Portaro never stopped wishing she had gone to college.
"I was always insecure that I only had an RN – not a degree. I just felt that I needed to have that credential," she says.
When she found University of La Verne, it suited her needs, her ambitions, and her hectic schedule.
With a busy company, a daughter at home, and dance classes squeezed in, she was able to take all of her university courses in the evenings at Huntington Hospital in Pasadena. In four years, she graduated with a BS in health services management, receiving straight As throughout her program.
"I enjoyed every minute of it," says Portaro. "I got a fabulous education and they really made it easy for me. It was perfect."
Her only regret is that she didn't walk with her class at commencement.
"I felt I was kind of old to walk, but later I realized I should have," she says.
Her ties to the university have continued and so has her commitment to giving back.
She put her business degree to use immediately as her company grew to become the largest institutional pharmacy in California, managing drug distribution for dozens of long-term care facilities and home care.
And all along the way, Portaro kept dancing.
When she and her husband decided to sell their company, Portaro took some much needed R&R before her next career came knocking. She had the opportunity to buy a gymnastics business in Pasadena, but started a dance studio in its place.
Despite the fact that "I knew nothing about this," she plunged in with her customary energy and drive to build Athletic Garage Dance Center. Eighteen years later, the company is thriving, in part because of the business acumen gained with her University of La Verne degree.
Where does her boundless energy come from? "It's probably from insecurity," Portaro laughs. "I don't want to give up."
And what would she tell her younger self?
"Don't go through life with your foot on the brakes. Keep moving – even if it's in the wrong direction. You'll correct it."
---