Scott Winterburn Named Interim Director of Athletics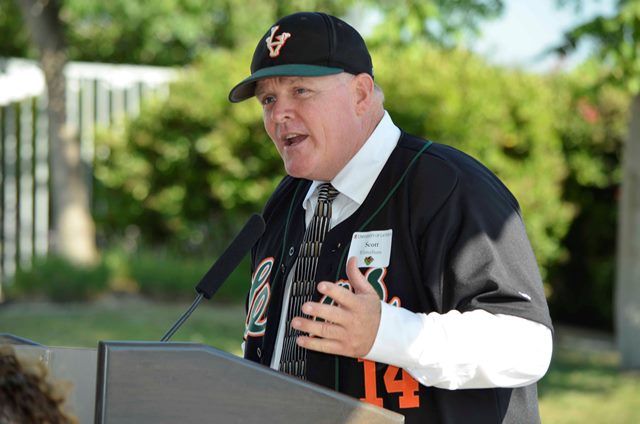 The University of La Verne has named longtime head baseball coach Scott Winterburn as interim director of athletics.
Winterburn steps in for former director Julie Kline, who is returning to the classroom as a professor of kinesiology after leading the department for the last nine years.
Winterburn, who instilled a winning tradition during his 17 seasons as head baseball coach, will assume the athletic director role immediately. He will also continue to coach the baseball team.
"The University of La Verne has always been a special place for students, and it is an incredible place for educators to do their life's work," he said. "I am honored to support some of the finest student-athletes in the country, and I am fortunate do so with the support of such a talented and hardworking staff."
Winterburn has more than 20 years of collegiate athletics experience. His coaching record includes five Southern California Intercollegiate Athletics Conference (SCIAC) titles, five regional playoff appearances, three SCIAC Players of the Year, and five SCIAC Coach of the Year Awards. He guided numerous players to success, including his son, Joe, who was drafted by the Boston Red Sox in 2014.
"Leopard Athletics is in good hands with Coach Winterburn," University of La Verne Provost Jonathan Reed said. "I am confident his experience, strong work ethic, and commitment to teamwork will help him continue the successes of Julie Kline."
Kline directed the department since 2008. Under her leadership, participation in athletics and the number of La Verne's All-American and All-Academic selections increased. She also helped to shape the greatest expansion of facilities in the university's history with the construction of the Campus West sports complex and extensive renovations and upgrades to Ortmayer Stadium.
The University of La Verne's Athletics Department develops scholar-athletes who demonstrate a commitment to academic and athletic success. Their GPAs, retention, and graduation rates are higher than non-athletes. About 30 percent of the university's traditional-age undergraduates participate in NCAA Division III sports. The university fields 18 sports teams (nine men's, nine women's) as a member of the Southern California Intercollegiate Athletics Conference.
The University of La Verne will launch a search for a permanent athletics director in the fall.
---