University of La Verne Choir Sings to Packed Houses in Europe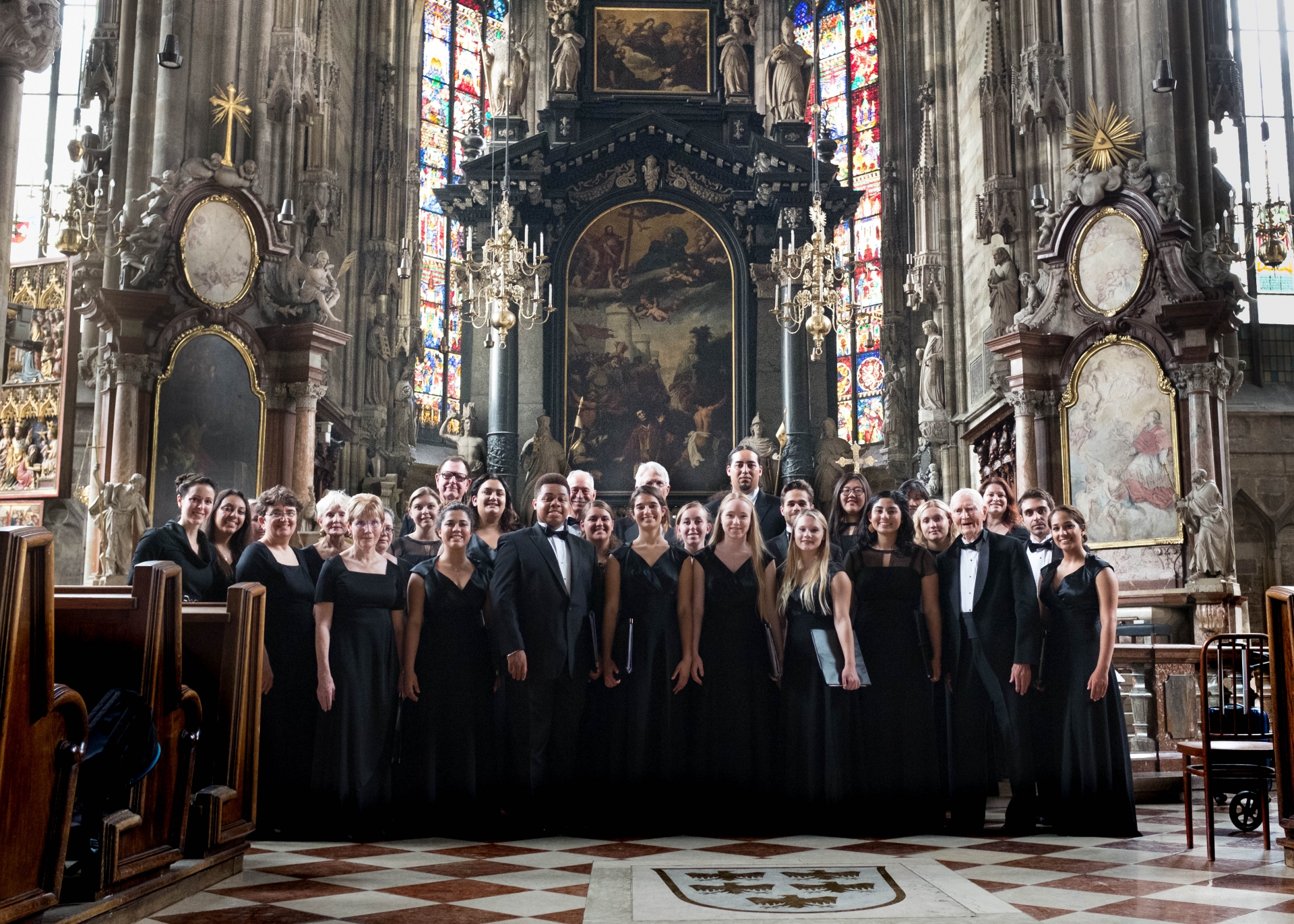 Their voices filled St. Stephen's Cathedral near the birthplace of Wolfgang Amadeus Mozart.
They performed medieval renaissance songs at a four-day festival known to attract more than 80,000 people.
And they sang at the Melanchthon Haus museum, where a packed audience gave them a 20-minute standing ovation.
These world-class singers, who delighted Austria and Germany over the summer, were none other than the University of La Verne Chamber Singers. Eighteen members performed in six cities over 11 days, discovering parts of the world many had never seen before, and winning new friends and fans.
"This was a once in a lifetime experience to be able to have an enriching exchange with other cultures through music," said Irene Messoloras, the Chamber Singers' conductor and director.
Fred and Juli Baumann, longtime friends of the university and supporters of the arts, made the trip possible.
One of the seven concerts the students performed was in Bretten, Germany, the town where Fred Baumann grew up. The Baumanns, Provost Jonathan Reed, and Dean of Student Affairs Loretta Rahmani went there to see the students perform at the Peter and Paul Festival, where all attendees dress in renaissance attire.
Fred Baumann said Messoloras and the singers captured the hearts of the audience. Organizers want the choir to return next year, he said.
"What a display of talent and dedication to what they love," Baumann said.
Preston Parker, a Chamber Singer and junior broadcasting major, called the Baumanns a blessing to their group. Parker is also minoring in music.
"From his hospitality to his words of wisdom, everything Fred did, he did with love. We are forever grateful," Parker said.
Students performed several times in Germany, earning praise wherever they went.
"The reception was incredible," Messoloras said. "You couldn't even fit a toothpick in some of these places. It was packed in. They gave us 20-minute standing ovations and encores. It was a beautiful experience."
To prepare for the trip, students learned three sets of music, including a repertoire spanning classical and romantic to contemporary and spirituals.
Parker said the trip showed students that music is universal, transcending cultural boundaries.
"I gained a new insight on the power of music in different countries. Music heals, it uplifts, and it inspires others more than we can see," Parker said. "That was proven with every audience we encountered."
Messoloras is planning another European tour for the Chamber Singers next summer, this time taking them to France and Germany.
The university's 75-member Chorale Ensemble is open to students, faculty, staff, and the community. An audition is not required. The Chamber Singers – a group of 24 students – perform more than 30 times a year. Auditions are held the beginning of each semester for the chamber.
Photo captions:
Top – Members of the University of La Verne Chamber Singers and the Mountainside Master Chorale pose in St. Stephen's Cathedral in  Vienna, Austria.
---