Houston Police Chief Urges University of La Verne Graduates to Lead With Authenticity, Conviction, and Heart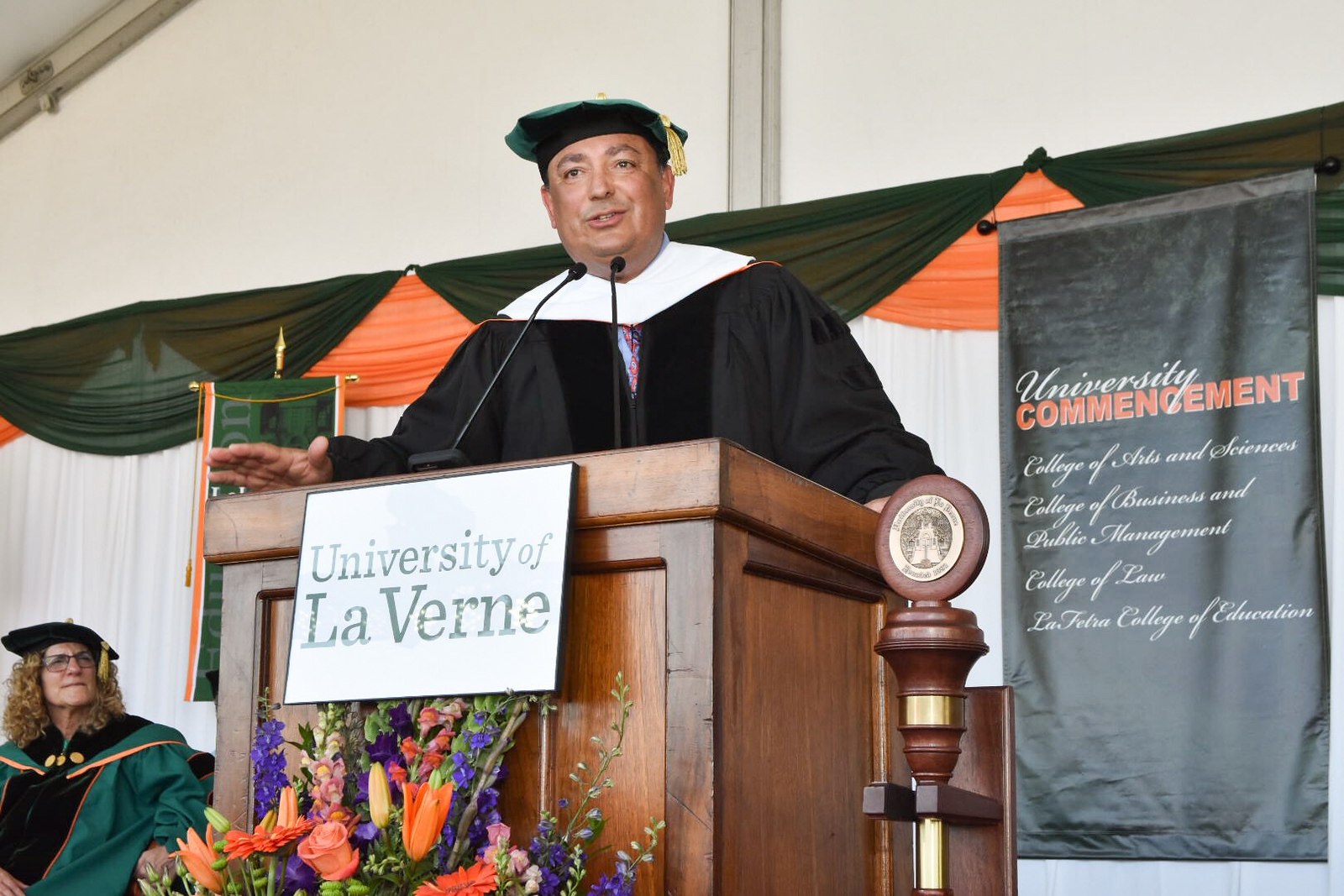 Houston Police Chief Art Acevedo told graduates of the University of La Verne on June 2 that they should commit themselves to becoming lifelong learners, critical thinkers, and leaders who bring people together.
Acevedo, delivering the keynote address at the 2018 Spring Commencement ceremonies for the university's College of Arts and Sciences and College of Business and Public Management, also told graduates that good leaders put themselves at risk to help others.
"Leadership is about asking people nothing that you are not willing to do yourself," he said. "You cannot change culture as a leader via memo. You've got to get in the trenches. You've got to get dirty. You've got to get involved. You've got to be a person who puts himself at risk. And when you do those things, guess what people are going to do? They're going to follow you."
Acevedo, who received a bachelor's degree in public administration from the University of La Verne in 2005, was sworn in as Houston police chief in November 2016. He is the first Latino to serve as police chief in Houston, the fourth-most populous city in the United States.
In 2017, Acevedo led the city through Hurricane Harvey, one of the costliest natural disasters in U.S. history. He credits his officers and staff with rescuing more than 6,500 people as the hurricane transformed the city into a series of islands. The chief drew on lessons he learned at the University of La Verne – earning, building, and keeping public trust – throughout the storm.
College of Arts and Sciences Dean Lawrence Potter, who introduced Acevedo during a morning ceremony, told graduates that Acevedo is a leader who understands the art and science of public service.
"His brave leadership has taught him that compassion and empathy matter," Potter said.
More than 1,000 University of La Verne students from the College of Arts and Sciences and the College of Business and Public Management participated in 2018 Spring Commencement ceremonies at Campus West.
Students received bachelor's, master's, and doctorate degrees during morning and afternoon ceremonies.
University of La Verne President Devorah Lieberman told graduates their education has prepared them to be civically engaged – to make an impact on the world around them.
"I like to say that our lives are similar to a mosaic – a collection of diverse tiles which create a beautiful piece of artwork when put together," Lieberman said. "Graduates, with your knowledge, skills, and values, you will continue to be an asset in your communities as you contribute to the beautiful mosaic called life."
Joanna Mrsich, a political science and speech communications major, shared with fellow graduates that she feels both fear and confidence as she ventures out into the world. She served as student speaker for the College of Arts and Sciences.
"I'm terrified, but I'm oddly at peace too," she said. "I have a confidence that was instilled in me by my professors, my friends, my family, just as I'm sure you do, too."
Robert Elazegui, who earned a Master of Health Administration and served as student speaker for the College of Business and Public Management ceremony, encouraged his fellow graduates to pursue purpose, joy, and hope after graduation.
"Joy is the outcome of finding our purpose, whether our degrees lead us to a promotion, starting our own business, or opening doors for more education," he said. "Joy is the feeling we get when we accomplish these goals."
More than 1,300 students were registered to participate in University of La Verne commencement ceremonies throughout the weekend. Students from the LaFetra College of Education will graduate during a ceremony on June 3.
---